Gicharu hopes for the best in Games debut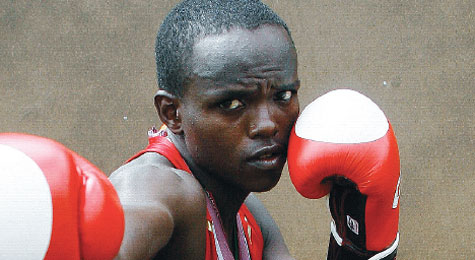 Benson Gicharu Njangiru
By Erick Ochieng'
Kenya's Olympic bound boxer Benson Gicharu Njangiru settled for silver medal in the men's flyweight 52kg at the International Amateur Boxing Association Olympics qualifiers for Africa that ended in Casablanca, Morocco in May.
Elated Njangiru failed to clinch gold in the category after he lost 16-5 to perennial rival Oteng Oteng of Botswana in the finals.
On his way to the final, Njangiru, the Benazir Bhutto Memorial Tournament silver medalist, overcame odds to triumph 17-14 against Micah Duke of Ghana in the semis, edged Jason Lavigilante of Mauritius 10-9 in the quarterfinals and routed Crimildo Guifutela of Mozambique 17-7 in the preliminaries.
Charles Odhiambo and Daniel Shisia settled for bronze medals in their categories after they were eliminated in the semi-finals.
National heavyweight sensation, Shisia, who was the first boxer to qualify for semis in Morocco, narrowly and painfully missed the Olympics slot after he was edged out 10-11 by Maxwell Amponsah of Ghana in the men's heavyweight 91 kgs. On his way to the semis, Shisia pounded Cameroonian Tangoum Romarick to win 19-14 on points in the quarterfinals. Shisia met Angolan Silva Tumba who he send packing with a 21-9 win in the preliminaries.
Narrow margin
Likewise, Odhiambo failed to make it to the finals in the men's Super Heavy weight category (91kgs plus).Okoth was beaten 12-20 by Paul Schafer of South Africa who bagged the Olympic slot.
Denis Okoth's attempt to reach the semi-finals was thwarted by Allisop Andrique from Seychelles in the lightweight (60kgs) category, losing with a narrow margin of 19-18.
Aziz Ali was not lucky in the hands of Tunisian Yahia Elmekachari in the light heavy (81kg)contest for the semifinals category. Ali was routed 12-4 on points.Ali lost 3-0 in round one, 6-3 in round two and 3-1 in the last round.
Rayton Okwiri was eliminated by Khalsi Mehdi from Madagascar in the welterweight category. Okwiri narrowly lost 11-12 to the opponent.
Ten boxers
Tobias Ayot, who had a bye in the preliminaries, was sent packing by Chagtmi Hassane of Tunisia who won in the quarterfinal round 18-8.
Martin Aluoch, who had received bye in the preliminaries, was defeated 19-7 by Lbida Aboubakr from Madagascar in bantam 56kg quarterfinals contest.
Victor Opiyo, who also received a bye in the preliminary, was eliminated 13-10 by Burundian Bassole Brice in light weight 64 kg.
Peter Warui was also eliminated by Flissi Mohamed of Algeria in the preliminaries in men's light fly 46-49kg.
Kenya entered a total of ten boxers at the Morocco championship that involved 154 boxers from 30 countries from across Africa who are contesting for 48 Olympics slots.
Other boxers who qualified for Olympics in Njangiru's category include Brahimi Samir of Algeria, Micah Duke of Ghana, Abdelaal Hesham of Egypt and Lavigilante Jason of Mauritius.
Qualifying event
"Following the conclusion of AIBA African Olympics qualifying event in Casablanca ,Morocco, a further 48 boxers from 10 different weight categories have qualified for the London 2012 Olympic Games. Please note that each boxer's participation needs to be confirmed by its respective National Olympic Committee," AIBA posted in its website on Wednesday where the list of qualified boxers was also published.
Nine countries including Kenya, Benin, Botswana, Burkina Faso, Mali, Mozambique, Seychelles, Tanzania and Zambia qualified one boxer each to the Olympics. Gabon, Mauritius, Namibia, Nigeria and South Africa had two each.
Only Tunisia got three boxers to the Olympics while Cameroun and Ghana had four each. Egypt had five, Algeria six and host Morocco had the highest number with seven.
Kenya's ability to qualify one boxer for 2012 London Olympics yesterday drew criticism from many quarters including boxing pundits who believes the country could have taken even more than five boxers that it took to the 2008 Beijing Olympic Games.
Not letting gold out of the vault
Brimin Kipruto's given name is actually Firmin, but it was mistakenly transcribed by a clerk in 2001 when he was applying for a birth certificate so as to secure his first passport. He has been identified officially as "Brimin" ever since.