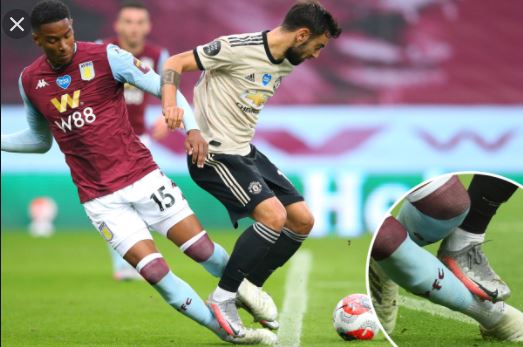 Football is an emotional sport and is littered with countless controversies especially in the English Premier League.
Premier League climactic outcomes have been decided by microscopic margins in this era of the (VAR) technology.
While conceding that an abundance of worthy incidents didn't make the cut, here's a look at the eight most controversial moments in 2020.
1. Harry Maguire neck lock on Azpilicueta – Manchester United Vs Chelsea, 24th October 2020
Harry Maguire was fortunate to avoid conceding a penalty after wrestling Cesar Azpilicueta around the neck.
The Manchester United captain grappled with his Chelsea counterpart during the club's drab 0-0 draw at Old Trafford.
Shockingly, it was reported VAR did NOT look at the incident.
The England star had been drafted back into the Red Devils team after missing the Champions League win over Paris Saint-Germain.
Maguire had endured a rough season for club and country and things could have reached another low when he tangled with Azpilicueta.
The former Leicester defender had his arms around the Spaniard to prevent him from meeting Ben Chilwell's cross but VAR refused to intervene.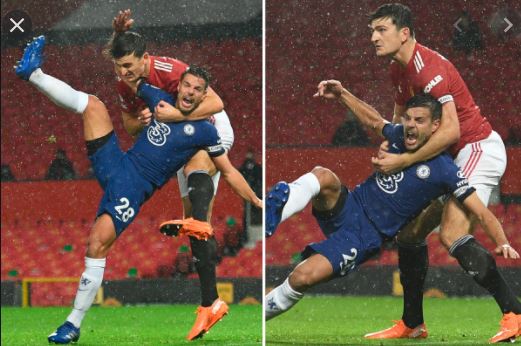 2. Alexandre Lacazette's goal disallowed for offside – Arsenal 0-1 Leicester, October 25, 2020
Arsenal manager Mikel Arteta was left fuming and bemused as to why Alexandre Lacazette's first-half goal was ruled out the Gunners' defeat at home to Leicester.
Leicester claimed their first win at the home of the North Londoners since 1973 as Jamie Vardy came off the bench to fire the Foxes to a 1-0 victory.
The hosts were left to rue an early decision after just four minutes, with officials deciding to disallow Lacazette's early header from a corner due to teammate Granit Xhaka's interference with goalkeeper Kasper Schmeichel.
According to officials, midfielder Xhaka was in an offside position when Lacazette glanced his header towards goal, standing right in front of the Foxes keeper, and his position meant the goal was chalked off after the linesman flag was raised.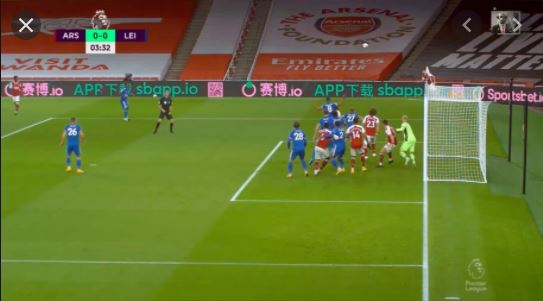 3. Bruno Fernandes awarded a controversial penalty – Aston Villa 0-3 Manchester United, July 9, 2020
Bruno Fernandes won and scored a controversial penalty to give Manchester United the lead against Aston Villa.
But home supporters were left fuming after replays appeared to show the Portuguese star was the one who committed the foul.
Replays appeared to show Fernandes had stood on Ezri Konsa - who was instead penalised by the referee.
Villa's official Twitter account was quick to point that out, sharing a still image complete with a sarcastic, thoughtful emoji.
The Premier League later confirmed to the BBC that VAR should have OVERTURNED the decision.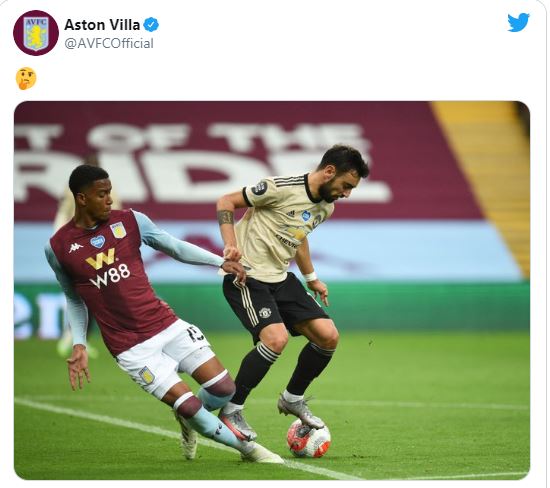 4. Harry Maguire avoids a red card – Chelsea vs. Manchester United, 17th February 2020
Harry Maguire avoided a possible red card during Manchester United's 2-0 win over Chelsea.
Harry Maguire insisted that the referee made the correct decision in not sending him off during the first half of United's win over Chelsea at Stamford Bridge.
Slow-mo replays appeared to show Maguire kicking out at Chelsea's Michy Batshuayi after a challenge close to the dug-out.
The incident was checked for a possible red card by the VAR but Anthony Taylor's on-field decision was upheld and United's captain was of the view that common sense prevailed.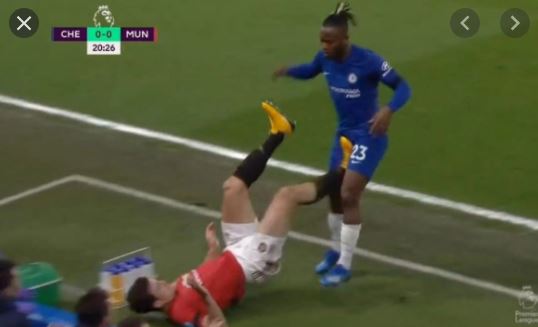 5. Clear penalty decision takes forever – Tottenham Hotspur vs Manchester City, 2nd February 2020
Manchester City were dominating in their match against Tottenham Hotspur on February 2nd, but couldn't score despite having plenty of chances.
However, with 10 minutes remaining in the first half, it appeared that they'd been handed the perfect opportunity; a sloppy challenge by right-back Serge Aurier saw Argentina's Sergio Aguero crash to the ground inside the penalty area.
Referee Mike Dean initially waved off the penalty claims, feeling that Aurier had played the ball.
It took an incredible four minutes – with the game continuing – for VAR to conclude that it was a penalty.
In the end, German's Ilkay Gundogan's spot-kick was saved by Hugo Lloris! Tottenham went onto record a surprising 2-0 win.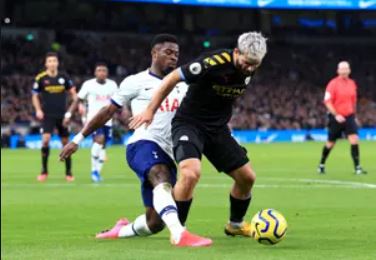 6. Questionable offside denies Boly a winner – Wolves vs Leicester City, 14th February 2020
Defender Willy Boly thought he had given Wolves the lead on the cusp of half-time, only for team-mate Pedro Neto to be deemed offside in the build-up, long after controversial referee Mike Dean had given the goal.
It was another of those fractional decisions that infuriate, with the Wolves Twitter feed claiming 'one of Neto's studs' – it was actually his left heel – had been in an illegal position after a short corner, and captain Conor Coady raging at Dean as he walked off at half-time.
Wolves boss Nuno Espirito Santo pointed out after the match that the technology would 'kill' football if not properly regulated.
"I hope whoever decides these things will look at what is happening, not only for us as professionals but for the fans, especially the fans. Something has to be done.
"When you have something and someone takes it away from you, you don't like it – especially a goal, which is really hard to achieve. It has happened many times for us but it is about what kind of game we want to see and how fans will react to it.
"It is very hard for players to sustain their level of concentration at these kinds of decisions. When they see the images, it is even worse," said Espirito.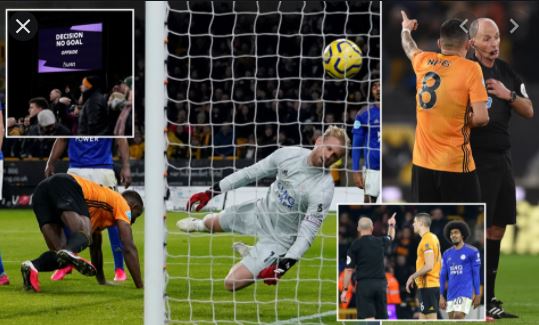 7. Jack Grealish's goal called offside – Aston Villa vs Burnley
2020 began with more VAR controversy when Aston Villa's Jack Grealish had a goal disallowed for a fractional offside during his team's game against Burnley.
The Villa midfielder headed home a cross from Ezri Konza after 12 minutes at Turf Moor, but celebrations were cut short by a check from the video referee which judged the visitors' Wesley to have strayed offside during the build-up.
The Brazilian was walking away from goal as he jumped for a header, and Burnley briefly looked to have cleared the danger before the ball was won back and crossed for Grealish to head in.
But the referee was alerted to a possible infringement in the previous phase of play, and VAR deemed Wesley's foot to have strayed marginally offside.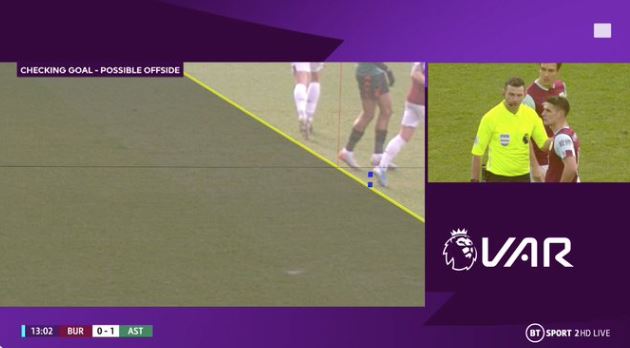 8. Glenn Murray's dodgy goal allowed – West Ham vs Brighton
David Moyes' West Ham must've figured they had 3 points in the bag when they took a two-goal lead against Brighton at the London Stadium on February 1st, especially when Robert Snodgrass almost immediately gave them a third goal after an Angelo Ogbonna own goal pulled one back for the Seagulls early in the second half.
A goal from Pascal Gross showed that Graham Potter's side weren't quite done, though, and then just minutes later, it looked like Brighton had an equaliser when Glenn Murray fired in from close range.
It came as no surprise, though, when the goal was disallowed; a replay seemed to confirm that the veteran striker had controlled the ball with his right hand.
Shockingly, VAR overruled referee Michael Oliver and allowed the goal to stand.