Mikel Arteta explains Jose Mourinho's tactics after Arsenal's defeat at Tottenham Stadium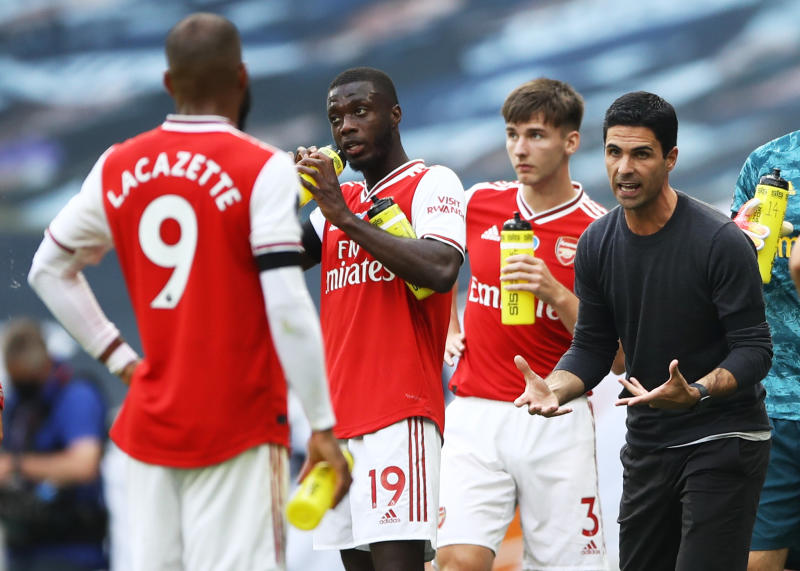 Arsenal boss Mikel Arteta has explained in detail why they lost 2-1 against Jose Mourinho's Tottenham Hotspur on Sunday.
Arteta admitted the defeat at the Tottenham Stadium dealt a major blow to their European ambitions, but lauded Mourinho for his tactical masterclass.
"I can see what [Mourinho's] trying to do and, look, he wins again. It's two completely different styles. He manages really well, he has a good team behind him. He always finds a way to win it," Arteta told journalists after the mouth-watering clash.
The former Man City assistant manager, however, chose to look at the positives and said his team will correct their mistakes and do well in the FA Cup which is in the semi-final stage.
"Points-wise it's a massive blow because we know the results this weekend, but we'll keep trying while we have hope.
"We'll fight in the league and the FA Cup to do our best and try to finish as strong as possible," said Arteta.
He added: "I'm disappointed and frustrated. I'm really sorry for the boys first, because of the personality they showed to come here and show who we are.
"Nullify the opponent, press them high, just force them to kick the ball long and defend [in] a low block, which is exactly what we wanted to do, but if you give two goals away against these players it's difficult to win a derby.
"We can do more and be more incisive and exploit spaces better than what we've done. Sometimes the rhythm, the urgency and the link of distances wasn't exactly there, many times it was, and the purpose was there.
"To attack a template that is like this [puts one hand in front of the other] all the time is not an easy thing to do. We tried and had enough chances to win a derby.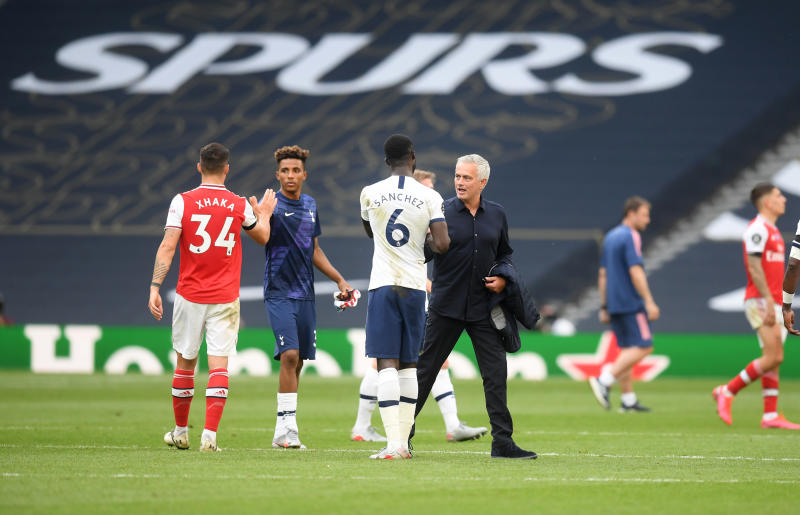 Arsenal took a 16th-minute lead through a sublime strike from Alexandre Lacazette in the north London derby, but a resurgent Son Heung-min pounced on Sead Kolasinac's miss pass to David Luiz to equalise three minutes later.
The Gunners were on top in the second half but struggled to break down a Spurs side defending in two solid banks.
Toby Alderweireld's 81st-minute header sealed the 2-1 Premier League victory for Mourinho in the first north London derby in their new stadium.
With three games left Tottenham have 52 points to Arsenal's 50, but are seven points behind fourth-placed Leicester City.
Tottenham go to Newcastle United on Wednesday, while Arsenal host 2019/20 champions Liverpool the same day, as they prepare for their FA Cup semi-final clash with Manchester City three days later.