They never walk alone: Sports CS Amina Mohamed is a Liverpool fan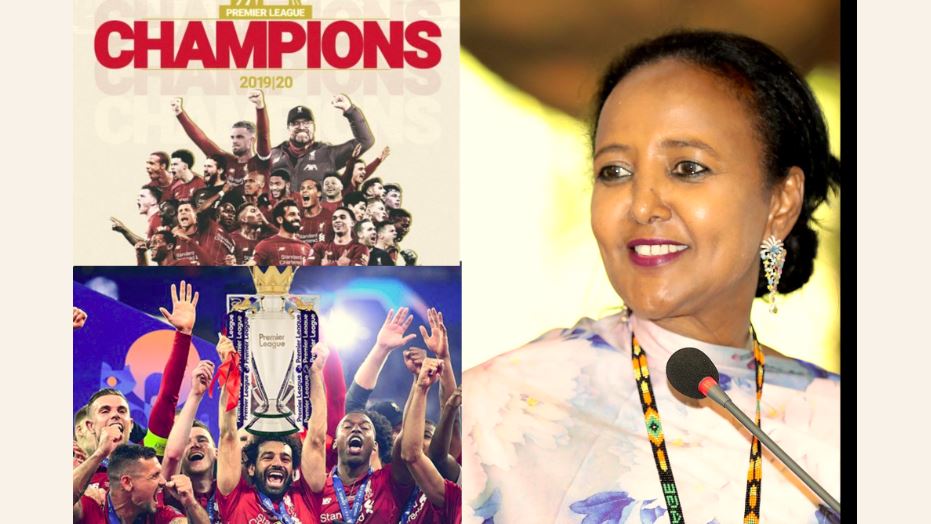 Cabinet Secretary for Sports, Culture & Heritage Ambassador Amina Mohamed is a Liverpool fan and joined fans worldwide in congratulating the Reds after a superb season, GameYetu can report.
An exclusive WhatsApp conversation in our possession shows CS Mohamed replying to a message at 12:28am from a group participant with a congratulatory emoji few minutes after Chelsea defeated Manchester City 2-1 at the Stamford Bridge on Thursday night.
Liverpool won their first English league championship in 30 years after their last top-flight title back in 1989-90 on Thursday.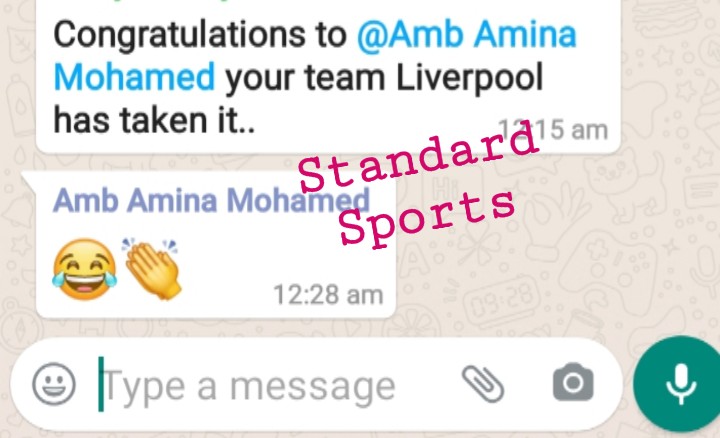 The Liverpool fraternity, club football legends, former players and fans lauded Jurgen Klopp the Reds for a well-deserved Premier League title win to make history.
Kenyan fans led by one of the most popular Liverpool fans on Twitter, Erik Njiru, could not hide their joy the club rose from the ruins to clinch a 19th league title amid the coronavirus pandemic.
Amazing feeling seeing LIVERPOOL win the PREMIER LEAGUE. Congrats @LFC pic.twitter.com/ChTCjKEZIn — CHAMP19NS (@EricNjiiru) June 25, 2020
The Sports CS on Wednesday commissioned the construction of a new Sh350 million stadium in Kisumu.
The 20,000-seater Jomo Kenyatta International Stadium will be built at the grounds of ASK Mamboleo show ground. It will be renamed after Kenya's first President Mzee Jomo Kenyatta.
The ground has been hosting rugby matches including Kenya Cup (Kisumu RFC), National Sevens Circuit (Dala 7s) and Kenya rugby 15s international games with the latest being Elgon Cup match between Uganda and Kenya Simbas.
While addressing the media, Amina said the Government had approved the project and it will be completed in six months.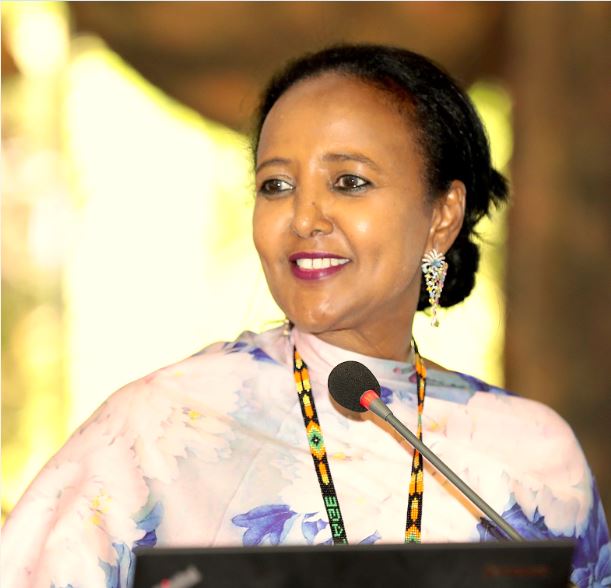 Facts according to the Opta Data:
Liverpool have won their first English league championship in 30 years after their last top-flight title back in 1989-90.
Liverpool have won the Premier League title with seven games still left to play – this is the earliest title victory in English top-flight history in terms of remaining matches when crowned champions.
Liverpool boss Jürgen Klopp has become the very first German manager to win the English top-flight title in its 131-year history.
Liverpool's inaugural Premier League trophy is their 19th top-flight title, with only Manchester United (20) winning more in English top-flight history.
James Milner (Man City, 11-12 and 13-14 & Liverpool, 19-20) is only the second English player to appear five or more times for two different clubs in a Premier League title-winning season, after Ashley Cole (Arsenal, 01-02 and 03-04 & Chelsea, 09-10).
Liverpool will emerge at the Etihad Stadium as champions, with the main bit of pre-match intrigue now set to revolve around whether a guard of honour is workable in the novel coronavirus.
Before that, City and Chelsea have away FA Cup quarter-finals on Sunday at Newcastle United and Leicester respectively.