Ambassador Irina proud of Kenyans' success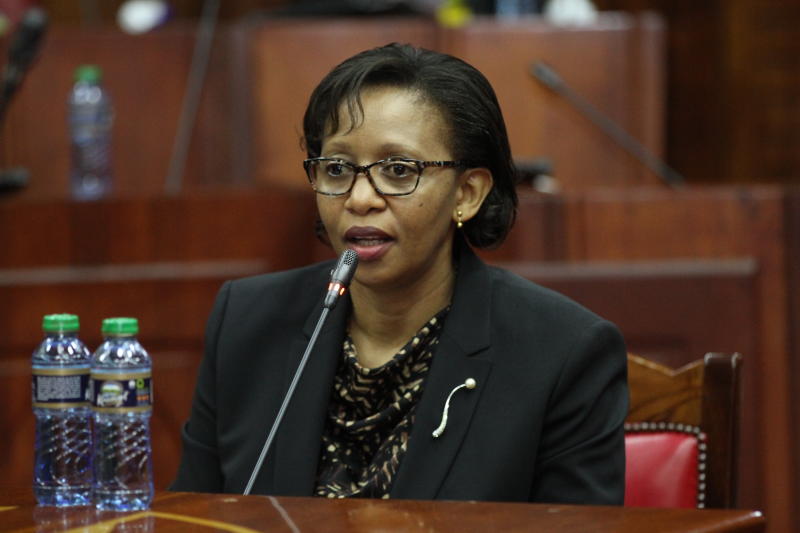 Kenya's Ambassador to Japan, Tabu Irina, has praised Kenyan Paralympians for putting aside their personal challenges to fly the country's flag high.
While describing them as 'an integral part of the national fabric', Ambassador Irina called on Kenyans to rally behind the paralympians when the Tokyo 2020 Paralympic Games begin August 24.
"It is amazing when you think of it how these athletes work so hard to qualify for these games. The fact that they will be taking part in the games after rigorous qualifiers is a feat we should all celebrate as Kenyans. It means they are among the best," Ambassador Irina said as she prepared to receive Team Kenya Paralympics.
Kenya hold Paralympic records for the visually impaired in 1,500m T11 (3:58.37 Samwel Mushai), 5000m T11 (15:11.07-Henry Wanyoike), 5000m T12 (31:42.97-Henry Kirwa) and 10,000m T11 (31:37.25-Henry Wanyoike).
"You have to give it to these athletes. It is not always about the medals, but that effort to make a mark for your country as therefore as Kenyans this is our time to get behind them," she said.
The ambassador also paid tribute to Kenyan athletes for the dignified manner they represented the country at the Tokyo Olympics.
"The government appreciates the sacrifices the athletes make to ensure Kenya is a dignified nation. The Sports CS Ambassador Amina Mohamed was here and together we put in place measures to ensure our athletes felt safe and comfortable while here," Irina said.
"The Olympics and Paralympics are the two biggest assignments the Mission had to handle this year amid the Covid-19 pandemic."
Kenya will be represented in athletics, para-rowing and power-lifting.
When are Kenyans in action?
Thursday, August 26
Time (To be decided): Powerlifting (up to 41Kg)
Hellen Wawira Kariuki
Friday, August 27
9:30 - 12:50 Men's 5000m - T11, Final
Wilson Bii (Guide Robert Tarus)
Rodgers Kiprop (Alpha Malinga)
9:30 - 12:10 Rowing PR1 Women's Single Sculls - PR1W1x, Heats
Asiya Mohamed
Saturday, August 28
9:30 - 12:10 Rowing PR1 Women's Single Sculls - PR1W1x, Repechages
9:30 - 12:50: Men's 1500m - T46, Final
Felix Kipruto
19:00 - 22:00: Women's 1500m - T13, Final
Nelly Nasimiyu Munialo (Guide Eric Kirui)
Sunday, August 29
9:30 - 12:50 Women's 1500m - T11, Round 1 Heats
Mary Waithera Njoroge (Guide Bernard Korir)
Nancy Chelangat Koech (Guide Geoffrey Malel)
Monday, August 30
9:30 - 13:00 Athletics (Olympic Stadium) Women's 1500m - T11, Final
9:30 - 13:00 Men's 1500m - T11, Round 1 Heats
1. Eric Kiptoo Sang (Guide David Korir)
2. Wilson Bii (Guide Robert Tarus)
Tuesday, August 31
9:30 - 12:45 Men's 1500m - T11, Final
Team Kenya
1. Eric Kiptoo Sang (Guide David Korir) 1,500m (T11)
2. Wilson Bii (Guide Robert Tarus) 1,500m, 5,000m (T11)
3. Rodgers Kiprop (Alpha Malinga) 5,000m (T11)
4. Felix Kipruto 1,500m (T46)
5. Mary Waithera Njoroge (Guide Bernard Korir) 1,500m (T11)
6. Nelly Nasimiyu Munialo (Guide Eric Kirui) 1,500 (T13)
7. Nancy Chelangat Koech Geoffrey Malel 1,500m (T11)
8. Hellen Wawira Kariuki Powerlifting (up to 41 kilogrammes)
9. Asiya Mohamed Rowing – PR1 Women's Single Sculls
Team Kenya
1. Eric Kiptoo Sang (Guide David Korir) 1,500m (T11)
2. Wilson Bii (Guide Robert Tarus) 1,500m, 5,000m (T11)
3. Rodgers Kiprop (Alpha Malinga) 5,000m (T11)
4. Felix Kipruto 1,500m (T46)
5. Mary Waithera Njoroge (Guide Bernard Korir) 1,500m (T11)
6. Nelly Nasimiyu Munialo (Guide Eric Kirui) 1,500 (T13)
7. Nancy Chelangat Koech Geoffrey Malel 1,500m (T11)
8. Hellen Wawira Kariuki Powerlifting (up to 41 kilogrammes)
9. Asiya Mohamed Rowing – PR1 Women's Single Sculls