Mini-Safari Classic Rally heads to Amboseli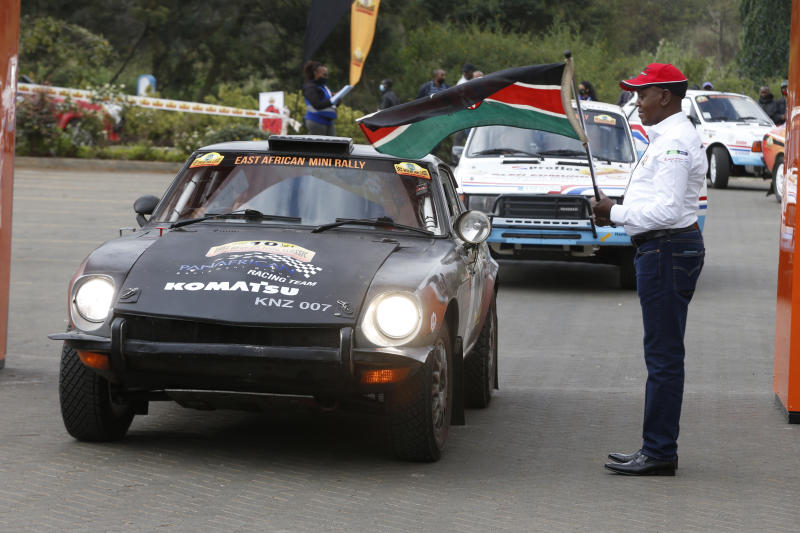 Kenya's Eric Bengi and navigator Gatimu Mindo are among the leading Kenyans at a mini version of the East Africa Safari Classic Rally that zoomed off at Karen Waterfront yesterday.
The event that has attracted several drivers from US, Bulgaria, UK, Zimbabwe, Oman and South Africa is set to end tomorrow (Saturday).
Bengi, who competed in this year's 2021 WRC Safari Rally, is competing in the East African Safari Classic Rally for the first time in an iconic rally car, the Datsun 180B. Other marquee rally brands such as Porsche, Ford, Skoda and Peugeot are joined by "Raid" vehicles including cars and buggies from CR-T and Land Rover.
Another Kenyan and former winner Ian Duncan is also part of the Kenyan drivers competing for the ultimate prize where the drivers will cover over 1,000 kilometers across the tough but stunning Amboseli terrains.
Event Director Tash Tundo said the mini rally is being held as a precursor to the 10th edition that is set for February 10-18 next year and said all plans have been put in place to ensure motorsport enthusiasts are treated to a spectacular show.
"The day is finally here. We've undertaken all efforts to ensure the safety of drivers, rally enthusiasts, passersby and wildlife, whilst putting on a magnificent show. Amongst other criteria, our course is designed to avoid populated areas and heighten general safety awareness among drivers and the community," said Tundo.