Rally: Kenya signs deal for Safari Rally to remain on WRC calendar till 2026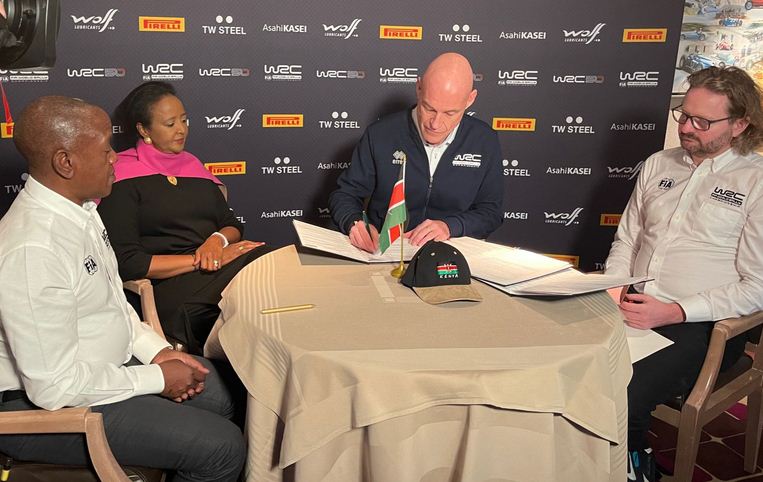 Kenya has signed a deal for the Safari Rally to remain on the (World Rally Championship WRC) until 2026.
The deal was signed on Sunday at the Automobile Club of Monaco between Kenya's Sports Cabinet Secretary Amina Mohamed and WRC Promoter GmbH Managing Director Jona Siebel.
The CS also signed several partnerships with the WRC revolving around talent development and environmental conservation.
The 2022 WRC Safari Rally will run from June 23 to 26.
Kenyan rally enthusiasts are already excited ahead of the new WRC season which revved off on Thursday with the Rallye Monte-Carlo in Monaco.
The Kenyan leg of the series held in Naivasha last year was the most-watched, with a record 850million viewers.
Kenyan audiences are already dazzled with the super-cars that have been lined up by the top three manufacturers that includes reigning champions Toyota Gazoo Racing, Hyundai Motorsport and M-Sport Ford for the championships.
The plug-in hybrid-powered cars are built around an upgraded safety cell chassis, 100 percent fossil-free fuel and sustainable energy supplies that are key to the sport's commitment to a greener future.
In order to be at par with the big boys, Kenya National Rally Championships driver Eric Bengi has suggests that the government should take over Kenya's preparations for the WRC season.
Bengi said the series is quite expensive to handle as a solo driver starting out with the high end cars that go for at least Ksh 100 million per vehicle.
"We, as local drivers, need good machines, we need adequate training to help us become competent in this sport. We need better support from the government," said Bengi.
"I'm suggesting that the government should set a side a Kenyan team, even if only five drivers, equip them well, train them properly, then set them to battle in the WRC series.
"I'm confident those chosen will perform well.I believe they will give the international drivers a run for their money."
Ahead of the new season, Kenya has already set up an office in Europe, in Lahti Finland to capitalise on the great history and rich heritage of the Safari Rally.
The new Safari Rally office in Europe will help market the country as a sports tourist destination.