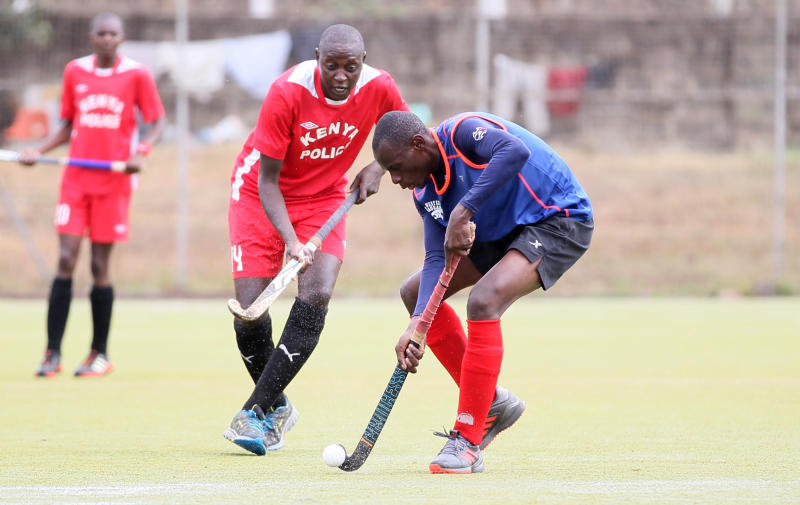 Former Kenya Hockey Union men's Premier League champions Kenya Police yesterday beat Western Jaguars 2-1 to revive their hopes of a top-two finish.
It was a bad weekend out at City Park for Jaguars as they left Nairobi dejected having lost 3-0 to Wazalendo on Saturday.
SEE ALSO: Hockey: Abedie habours big dreams in premier league debut
Goals from Robert Masibo and Moses Cheplaiti in each half were enough to see the law enforcers chalk up their sixth win of the season and narrow the gap between them and league leaders Butali Warriors to 12 points.
Police captain Oliver Echenje said a slow start to the season has left them to fight for second place.
SEE ALSO: FKF Elections: Mwachiro roots for former players in football management
"The points we dropped at the beginning of the league gave our opponents an upper hand and we've had to lower expectations. The title is not within our reach because for us to have a chance, they (Butali) must lose at least four matches and I doubt it will happen because they are in brilliant form. Wazalendo are also very strong and are closer to the title than we are so we just have to be realistic and fight for what is achievable," Echenje said.
Despite the two losses, Jaguars coach Mike Malungu remained optimistic saying their top four finish dream was still alive even though they are left with very tough ties including an away clash against unbeaten champions Butali. "We desire a top four finish and we'll not let these two losses dampen our spirits. We still have five matches to play."
SEE ALSO: Klopp: City's appeal victory not good for football
The law enforcers began their goal hunt from the whistle but their efforts were met by an equally eager to score Jaguars who resisted their attempts to take an early lead. Echenje, Vincent Odindo, Titus Kimutai, Samuel Wokila and Masibo made waves of attack on Jaguars territory but skipper Kelvin Machinji, Conrad Wafula, Collins Omachi and Ivan Ludiali would not let them have their way.
A foul in the circle seconds to the first quarter break saw Police awarded a penalty stroke. Masibo, returning from injury did not disappoint sending the ball past Jaguars goalkeeper Gilbert Okanga. Ludiali found the back of the net foor Jaguars in the third quarter but only for veteran Cheplaiti win it for Police in 47th minute.
On Saturday, Jaguars fell 3-0 to second-placed Wazalendo. John Rioba, Sutcliffe Usagi and Kennedy Munialo were on target for Wazalendo.