Is clanism threatening to tear Leopards apart?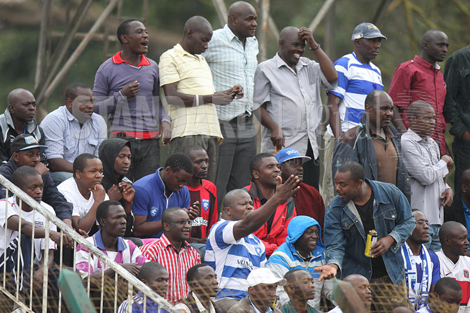 Is clanism the cause of AFC Leopards dismal performance this season?
Perturbed by the behavior of unruly Ingwe fans during their Gotv Shield semis against Sofapaka, former Leopards defender Jonas Nahimana revealed (via video message) that clan inclinations might tear the club apart.
"I know right now things are not going so well for the team but I want to address you the fans – AFC fans....,'' said Nahimana.
"When I joined AFC, the first thing I knew about the club was the name AFC – Abaluhya Football Club; a team that was bringing all Luhyas together but right now when I go to the social media where you guys interact, I realise that you guys are divided.
"There is a side for Maragolis, another for Bukusus or something like that. I didn't know about that before and you guys have to unite. I remember a time when there was a discussion that Maragolis are better than Bukusus and when the team lost that it was because of Bukusus or Maragolis and when the team won it was vice versa. That's very bad. You need to be united. Once you are united, nothing can put you down."
Situma's car pelted with stones
AFC Leopards defender James Situma was among those who were left counting losses after hooligans smashed his car's window screens during their 2-0 defeat to Sofapaka in GOtv Shield semis.
With the match abandoned in the 87th minute, the unruly Ingwe fans vented their frustration on match officials, vandalising vehicles including their own bus, as they engaged police in running battles.
The former Sofapaka skipper took to his Facebook account to express his disappointment and condemned the incident. "Football does not have to be a matter of life and death, you will never win them all nor lose them all and that is life. My car was badly damaged with those people I thought I trust. But what broke my heart most was not even losing that game but watching a 7-year-old girl crying inside our team bus as she could not even trust her own mother when she told her come down all is well outside," posted Situma.
His sentiments were echoed by former AFC Leopards striker Boniface Ambani. "I am just a disappointed man. I came to watch AFC Leopards play against SOFAPAKA. But left the stadium injured. I am disappointed with Leopards fans.Throwing stones and water cans wasn't a solution. It's a bad picture to Kenyan Football. Whoever threw stones on the pitch one day one time you will pay for your sins. A tear gas canister hit my head.I left a man hanging for his dear life with his two kids as police continued lobbing canisters one by one. Lets accept defeat with dignity. Fighting takes people nowhere. Leopards fans can't learn? My last word is. Hooliganism takes soccer nowhere.Watch out and lets not chase sponsors. No Company would wish to associate itself with hooliganism," read Ambani's post.
Ingwe hit where it hurts most
Although the sanctions handed to our beloved club, AFC Leopards, by Football Kenya Federation following last Monday's crowd trouble during the Gotv semi-final match against Sofapaka might be deemed insufficient, the punishment can be used to deter acts of hooliganism in future.
For once, the federation has hit the club where it hurts most. Ingwe will now play their remaining four (if Sony tie will be replayed) league matches in an empty stadium and compensate the home team for loss of revenue in the event they are playing away. That means, no fan will be allowed into the stadium in Leopards' matches against Chemelil, Sofapaka and Bandari hence no revenue will be generated by Ingwe from gate collections.
Apart from a fine of Sh500,000 imposed on the team, Ingwe will also pay for the medical expenses incurred by the injured match officials and fans as well as cater for all damages.
Your Say
Thats why some of us never go to stadium to watch this so called beautiful game.- Wycliffe Otete
Sasa hii stadi ni ngumu kufika.. Shame on those PRIMITIVE heads. Pole sana n wish u a quick recovery..- Titus Mulama
Ma fans kuweni na utu tafadhali heshima si utumwa mawe niyamashemeji-Joyce Ongachi
Jonas Nahimana,,, well said,,,hooliganism is doing more harm to the club- Elvíñhø Shîz Éllý
Si kupenda kwa fan kurusha mawe, ni provocation-Webungo Reloaded Supermagorgious
Ati wachezaji ndio walistahili kunyoroshwa na mashabiki heheheeee! ..vile mashemeji walivyo nyorosha wachezaji wao huko afraha stadium nakuru- Fredrick Wanyonyi
Now that FKF has ordered all the remaining matches to be played in an empty stadium, trip ya kwenda Mombasa itapotea hivyo?- Mzalendo Renson
Why Gor Mahia will silence Sofapaka
I just have the feeling that Gor Mahia will end Sofapaka 2014 campaign. Reason, Sofapaka will be Gor's biggest test since the start of the season and Gor Players will love to prove to the KPL teams that they are more than ready to win title.