Snow takes lead in second leg of Safari golf event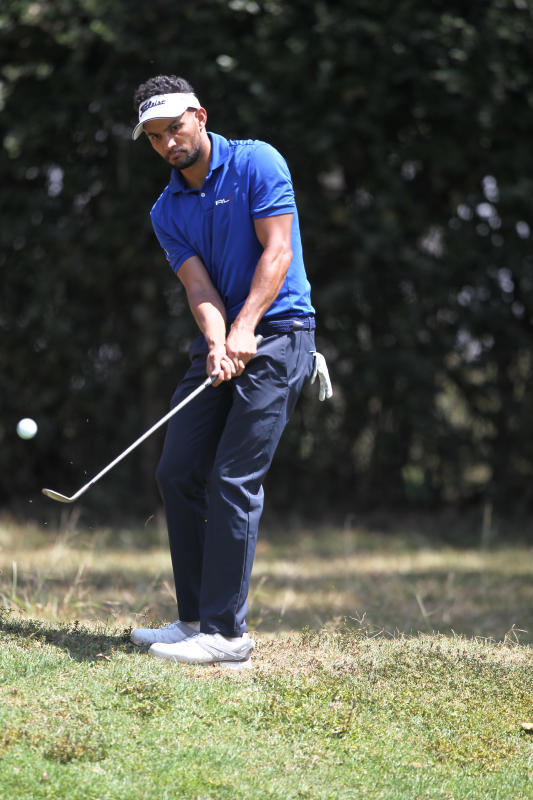 Muthaiga player Greg Snow fired two under par 70 to top the leader board yesterday in the 2021/22 Safari Tour Golf Series second leg at Vet Lab Sports Club in Kabete.
Snow, who played two over par on Sunday, successfully made the cut on a level par after the total two rounds of golf.
"The game was much better today, ball stroking wasn't that great yesterday (Sunday) hence the not encouraging score on day one.
"I managed to hit a lot more greens," Snow told Standard Sports.
Snow birdied in holes 2,5 and 7 in the front nine and in hole 12 in the back nine.
Concerning the greens, Snow noted they were slow due to the heavy overnight rains.
Ahead of round three and four slated for Tuesday and Wednesday, Snow says his game plan will remain the same.
"My target is to take it as long as I can. I am going to be more aggressive the next two days as I have been today," he said.
Snow missed last week's opening leg in Sigona, citing a shoulder injury which is in the process of healing.
"I'm feeling much better now, I'm working out, strengthening and stretching it out to ease the pain," he said.
Two Zimbabweans; Robson Chinhoi (71,74) and Tafara Mpofu (69,76) finished on one over par apiece after the two rounds to follow Snow in that order.
"I had hard decision making in holes two and three which I bogeyed. I also failed to adjust well to the pin positions," said Mpofu.
Mpofu, 24, surprised many when he topped the standings on Sunday.
Chinhoi admitted he lost grip on his game in round two but is hopeful to regain ground in the next two days.
Simon Ngige of Thika Greens and Mathew Omondi of Vet Lab ended the day in fourth and fifth place.
A total of 24 players made the cut which places them in the money bracket.
Among them is Mumias hard hitter Dismas Indiza, Ronald Rugumayo (Uganda), Paul Chidale (Malawi), Andrew Odoh (Nigeria) and Jacob Okello. Meanwhile, Sam Burns shot a final-round 5-under 67 Sunday to emerge from the pack and win the Sanderson Farms Championship in Jackson, Miss, adds Reuters reports.
Burns' 22-under 266 was enough for his second title this calendar year, after winning last season's Valspar Championship in May.
Nick Watney (65) and Cameron Young (68) tied for second at 21 under.
"It hasn't really set in yet. Still looking out there at the golf course like kind of trying to figure out what happened," said Burns, 25.
What happened was a stretch of four birdies over five holes on the back nine to bring Burns as low as 23 under for the tournament. He got to within 8 feet for birdie at No. 11, drained a 13-footer at the par-3 13th, left an eagle putt inches to the right at the par-5 14th and had a tap-in birdie at No. 15. A bogey on Burns' last hole didn't do enough damage to his advantage over the field.
Burns did his best not to worry about how the rest of the field was scoring.
"I didn't really look. I made a comment to Travis (Perkins, his caddie) on the par-3, 13, can't remember what I said, but he kind of snapped me back into it, back into what we were trying to do," Burns said. "And so he was great all week and just keeping us in the moment and keeping us focused on our process."