Former amateur golf champion Makokha going for gold in Brazil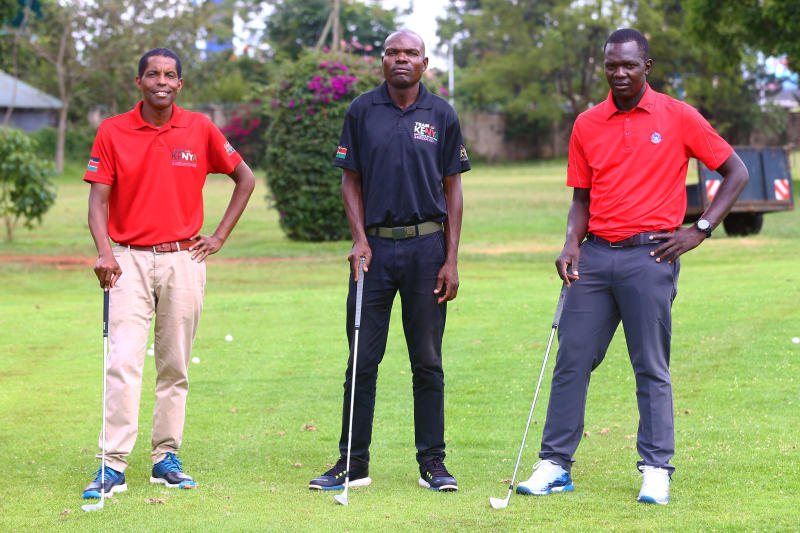 The 2020 Kenya Amateur Matchplay Championships winner Isaac Makokha has said he is going for nothing short of a gold medal at the 24th Summer Deaflympics in Brazil.
Makokha's dream has been motivated by his fifth place ranking in the world in his debut in the last edition of the championships held in Samsun, Turkey in 2017.
"I have been improving ever since, from my current fitness level, I can say I'm a medal prospect but my focus is very specific, I'm headed for gold," Makokha told Standard Sports.
Makokha says his stint in Turkey gave him key lessons among them how to handle pressure in the sport which he hopes to apply in Brazil.
"The competition gave me exposure, I'm nowadays more open minded," he said.
But he believes his greatest rival in Brazil will be top ranked German hard-hitter John Allen who he is prepared to give a run for his money in the global showpiece.
To ensure he achieves his feat, the Vet Lab Sports Club player is currently working on his drives at the par 71 Muthaiga Golf Club where he trains under head coach Vincent Wang'ombe.
"I have literally worked on all departments; from hitting balls on the range, chipping and putting. I feel very confident, I'm ready for Deaflympics," he said.
The handicap 0.8 player says playing against Magical Kenya Open pros have taken his game to a whole different level.
The 29-year old father of one recently led Vet Lab to a seventh place finish at the Tannahill Shield Golf Tournament held at the Royal Nairobi Golf Club.
Makokha was introduced to the sport while young by his father, who worked as a receptionist at the Eldoret Club.
His greatest challenge in the game is not being able to afford club membership fees which he says is beyond his reach.
But he is glad that Vet Lab came to his aide in 2016 and waived his fees to date.
His greatest inspiration in the sport is his brother Jeff Kubwa who is a member of Muthaiga Golf Club.
Kubwa has assisted him with playing gears, imparted him with great skills and always lifts him up in his low moments.
Makokha plans to turn pro in the next five years.
He also wants to start a foundation to give back to the society at the same time give deaf children a platform to join the sport.
Apart from Makokha, other players who will represent Kenya in Brazil are former Muthaiga Golf Club caddies; handicap 7.5 Adan Wario and handicap 2.5 Gilbert Alikula.
Makokha has urged his counterparts to work hard ahead of the contest that will be held at the 9 hole Caxias Do Sul Golf Course.
In the first round, all golfers will engage in a stroke-play format contest from May 7 to 9 where the best 16 will qualify for the quarters-finals.