Dennis Kinuthia rules Railway course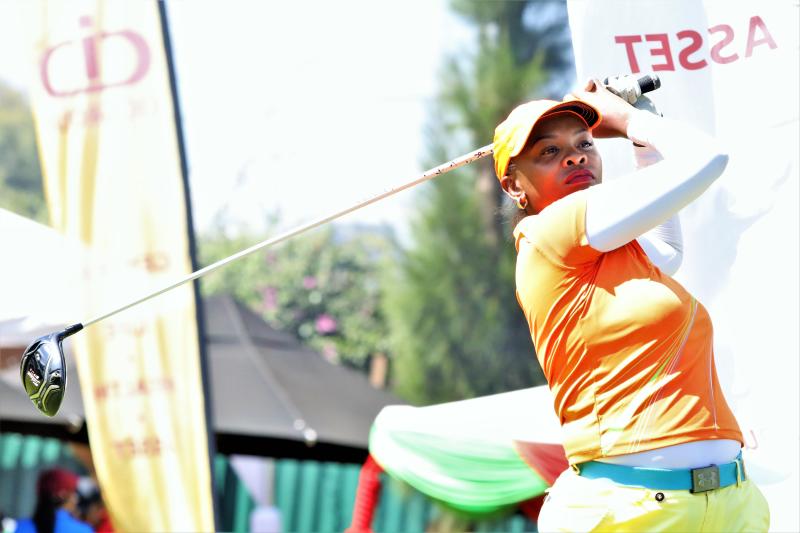 Handicap 18, Dennis Kinuthia returned a commendable score of 44 stableford points to clinch Lady Captain (Eunice Kilonzo) 2020 prize at the par-72 Kenya Railway Golf Club course over the weekend.
Kinuthia earned his win with a total of 10 pars, three bogeys, four double-bogeys and one birdie in the meet whose competition scratch score was 70 for men and 73 for ladies.
On his front nine, Kinuthia picked his pars on the par-five first, par-four second, par-four third, par-three third, par-four fourth.
He picked his other pars on the outward nine from the par-four fifth, par-three sixth, par-four eight and ninth a par-five.
On the inward nine, Kinuthia sunk his pars on the par-four 14th hole, par-par-five 16th hole and the par-three 17th holes.
Men second prize was won by handicap 25, Morgan Chirchir, on a score of 38 stableford points with Sam Kona taking Men third prize, on a score of 38 stableford points. Edward Kerich bagged Men winner fourth prize on a score of 37 stableford points.
Royal Nairobi Golf Club's Steve Lugalia was the best visiting golfer on a score of 30 stableford points.
Handicap 24, Elizabeth Njau, won Ladies' category on a score of 37 stableford points.
Nancy Kariuki playing off handicap 15 scored 37 stableford points while former Lady Captain Rosemary Omanyo came in second on a score of 35 stableford points. Alice Mwangi finished third on a score of 32 stableford points.
Top Junior golfer prize was won by a handicap 19 Belinda Wanjiru on a score of 34 stableford points. Fiona Wanjiru was second on a score of 26 stableford points.
In the commercials, Immediate past-captain Joe Marucha claimed Men Longest Drive prize with Rosemary Omanyo winning in the Ladies category.
There were 14 twos recorded by; J Kamenchu (4), M Mbugua (6), Liz Mbuthia (6),B Mwaura (6), K Kuria (13), J (J) Mugo (13), N Winja (13), J Ng'etich (14), J Kamenchu (15), D Kinuthia (15), F Muthiani (15), Alice Muthiani (15), N Wabrire (15) and B Kiraithe (17).
Nearest to Pin Men prize went to Michael Mbugua as Liz Mbugua won Nearest to Pin Ladies prize.
Speaking during the presentation dinner, CIC Business Development Manager Joseph Ngige said: "We acknowledge the enormous support we've continued to enjoy through our long standing relationship with Kenya Railways Golf Club."
Noting that the Covid-19 pandemic has affected businesses countrywide, Ngige urged members to continue patronising their products which were accessible on mobile platforms.
The tournament was presented by CIC Insurance Group Limited, Heineken and Friends of the Lady Captain.
At the par-72, Vet Lab Sports Club scratch golfer Ebill Omollo returned 38 differential points to triumph during Vice-Chairman (Mary Maingi) putter prize 2020.
Lurking in Ebill's shadows, was Simon Mbugua on 70-30=40 differential points while Raju Mangat settled for third place with 75-29=46 differential points.
Handicap 6, Nancy Nyanchama, won Lady winner prize on 76-30=46 differential points.
Past Chairman prize was won by Martin Makundi on a score of 28 stableford points. Sponsors' prize went to Henry Obino on a score of 81-25=56 differential points as Krish Beiju emerged the best Junior golfer on a score of 72-35=37 differential points.