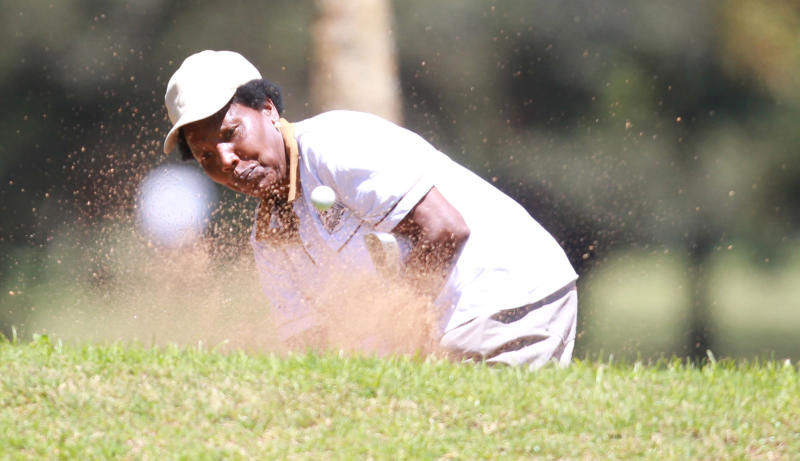 Okello, Wakhu and Giddie take timely Safari Tour lead
The event meant to qualify golfers for the Magical Kenya Open attracts 52 players.
It was a cut-throat battle as three players finished neck and neck on day one of the opening leg of the 2020/21 Safari Tour golf series at Limuru Country Club in Tigoni, yesterday.
Legendary Jacob Okello, David Wakhu, both of Golf Park, and Ganeen Giddie of Muthaiga all fired two under par 70 to go top on the challenging first day.
"I'm yet to give my best. I have a hip pain that is extended to my heels and this affects the way I swing," Wakhu told Standard Sports.
"But I hope to get over this very soon," added Wakhu, who had 38 strokes in the front nine and 32 in the back.
Okello hit 36 and 34 in both ends in his quest for glory.
"The course was somewhat challenging today. The speed of greens was wanting. I had to be cautious with the ball on the fairways," said Okello, arguably Kenya's best player going by his meteoric show at the prestigious Kenya Open in 1978, where he finished second overall after a tough playoff final.
"My strategy is to finish in top two in all legs this season because this will help me make the cut for the Open."
The ongoing Limuru contest is unique as golfers are not utilising the services of the caddies.
This is meant to mitigate the spread of Covid-19 virus that has affected the world economies.
"I don't mind not having a caddie. It's equally a good exercise carrying my bags all through the 18 holes," said Okello.
George Felix Khalakai (Railway) and John Kagiri (Limuru) tied in second spot after recording one under par scores each in their hunt for glory.
Vet Lab's Nelson Simwa was not happy with his 83 stroke score after he blundered in holes three, four and six.
"I lost balls in the tough yards and it affected my play. I hope to bounce back on Monday as my mission is to make the cut," said Simwa.
Likewise, Tony Omuli of Golf Park equally struggled on the day.
He was dejected with his 82 stroke result which he hopes to improve on today.
"I stayed for long without practice. My mind is yet to tune back into action. I hope to be ready as we head to Royal Nairobi for the second leg," he said.
The opening circuit at Limuru has attracted a large field of 52 players.
The contest will proceed for four days with top 20 finishers sharing Sh1 million prize money.
After Limuru, the series will head to Royal Nairobi Golf Club next week for round two, then Vet Lab and Sigona.
Because of the tight schedule, Kenya Open Golf Limited (KOGL) has urged the players to plan their itineraries well for them to avoid missing any of the legs.
KOGL has assured that the tournament is following strict protocols to mitigate the spread of Covid-19 pandemic.
The series will have 10 events of which, three will be hosted in Uganda, Rwanda has one leg, while Kenya will accommodate the rest.
The competition, meant to qualify golfers for the Magical Kenya Open, was to initially tee-off in April but was subsequently shelved due to Covid-19.
KOGL said that Magical Kenya Open qualification will be based on roll-over points in the last three Safari Tour circuit dating back to 2018.
Only 12 players will make the cut for the Magical Kenya Open.