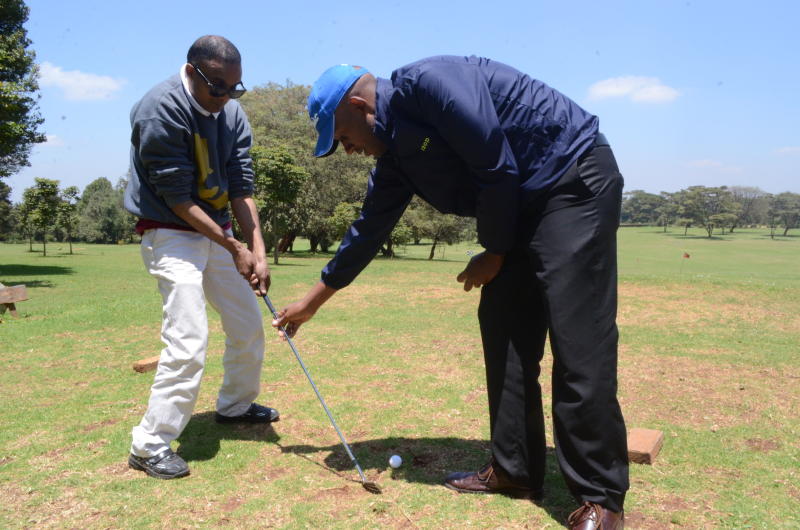 The European Tour Kenya Open Championship 2020 edition kicks off in seven weeks. While we are busy celebrating its inclusion in the European Tour, we need to ask some hard questions about the dismal performance of our golfers at our National Open year in year out.
Every year, at this time, we hear nothing but big talk from our golf professionals about how a Kenya will finally win the Kenya Open.
Yet, as sure as the sun rises in the East, there is nothing to show at the end of the competition. Only two or three of our Pros will have made the cut, and those would finish way down at the bottom.
2019 was probably the worst year for our Kenya Teams. Despite a huge contingent of nine Pros and six Amateurs, only two made the cut; more have qualified in previous years.
These Pros had qualified through the Safari Tour Golf Series, while the Amateurs had qualified through the Kenya Amateur Golf Championship (KAGC) ranking.
The year started on a rough note for the men, when Uganda beat Kenya to retain the 2019 Africa Region IV Golf Tournament played at Bujumbura Golf Club, Burundi.
Uganda also beat Kenya at the Victoria Cup, the mashemeji derby between Kenya and Uganda, after losing the last three times, by winning 14 points, two better than Kenya.
But the worst performance by the Kenya teams happened at 2019 All Africa Team Golf Championship held at the par 72 Mont Choicy Le Golf course in Mauritius.
Kenya finished in a miserable seventh position out of fourteen countries and was even beaten by hosts Mauritius and eSwatini, both erstwhile golf lightweights.
The ladies did not have it any better. At the East and Central All Africa Challenge, ECAACT, held in October at Entebbe Golf course, Kenya's team came in fourth, behind Tanzania, Zambia and Uganda.
This is a regional ladies event between the eight East and central Africa countries and serves as a precursor to the All Africa Challenge Trophy, AACT. It would be folly to expect our ladies to do any better at the more competitive AACT.
All this routing is happening at a time when we are being told that KGU or JGF, it is not even clear who, has employed a highly-paid expatriate national junior golf coach.
Well, he has not performed and it's about time his performance was audited and reviewed. Going by the above results, he needs to be replaced.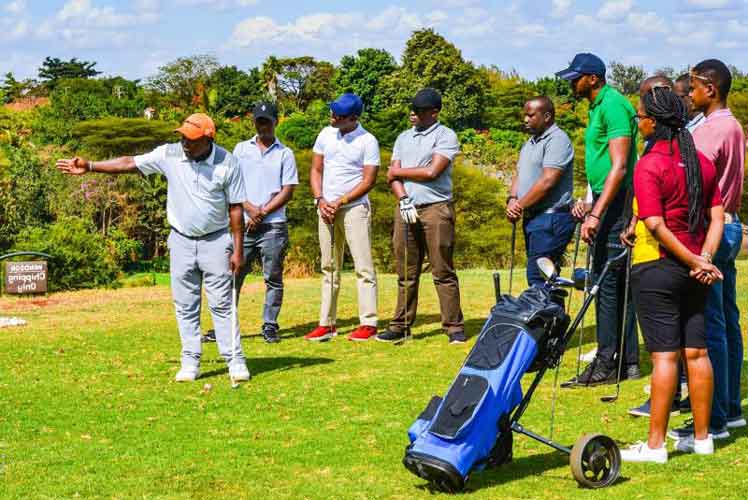 Since this coach has been around for over two years, the performance of Kenya's teams has been downhill all the way.
Consider the following: In 2017, the men's team not only won the East Africa Challenge, but they also won the Victoria Cup. In 2018, they were placed third in the East Africa Challenge but managed to win the Victoria Cup. Last year they won none.
In 2018, Kenya's ladies team finished third, behind South Africa and Tanzania at the continental All Africa Challenge Trophy. Team Kenya was beaten by Uganda and Zambia at the regional, not continental, East and Central All Africa Challenge.
Obviously, Kenya is getting worse at these team events. I am curious to know what this national coach is up to.
In fact, let's start by querying his qualifications, credentials and competence, as well as his past performance and records, not as a player but as a golf teacher.
What were his terms of engagement? What were the expected deliverables? Who set them and how were they set? Is anybody monitoring his performance? Against which metrics?
These are questions that should have been asked and hopefully were asked before he was hired. But whatever reasons led to his engagement have not been backed by results.
In December last year, I spent some time talking to some junior golfers, some of them being part of the national junior teams, and to my dismay, some had never heard of this national team coach let alone taking any lessons from or under him!
We would like to know who he is teaching and what national programs he has embarked on. It appears that, if at all he is doing anything, he has pitched camp at Muthaiga and is only attending to a small number of juniors.
It has also been noticed that he suddenly appears out of nowhere whenever a team for a competition is getting ready and pretends to run a two or three weeks coaching session, and then expects them to deliver.
That's absolute nonsense. Golf, and indeed sports coaching requires the development of a very close relationship between the students and teacher over time.
A two-week or even one-month camp can only offer emergency tips, no better than applying Elastoplast over a deep wound. It does not take much for these band-aids to come off and before you know it, the engine is leaking oil. That is exactly what has been happening.
At best, such a skin-deep teaching camp can only give the competitors a false sense of confidence, but of course, one that will quickly dissolve the moment the going gets tough.
My other question is: If his engagement is with the Junior Golf Foundation, why is he making it his business to get involved with the senior men's and women's team and even pros? At whose expense? He should be in Kisumu or Machakos running some junior golf clinic.
What I also find odd about his role is that he is handling the entire cross-section of our golfers: from juniors, through amateurs up to pros. That cannot be right. A competent coach focuses on one group.
His mundane message when sending off the juniors' Team to the All Africa Competition in Mauritius last year was, "I hope they can keep their heads cool in Mauritius and make Kenya proud. During the training, we worked a lot on iron play and proximity to the hole with short irons and wedge game and I have no doubt they will do well if they keep their heads down".
Very, unprofessional, generic words, which are nothing but a bunch of common golf clichés and could have made one puke! Keep the head down? Is that all there is to winning? No wonder the team got whipped! They certainly did not make Kenya proud.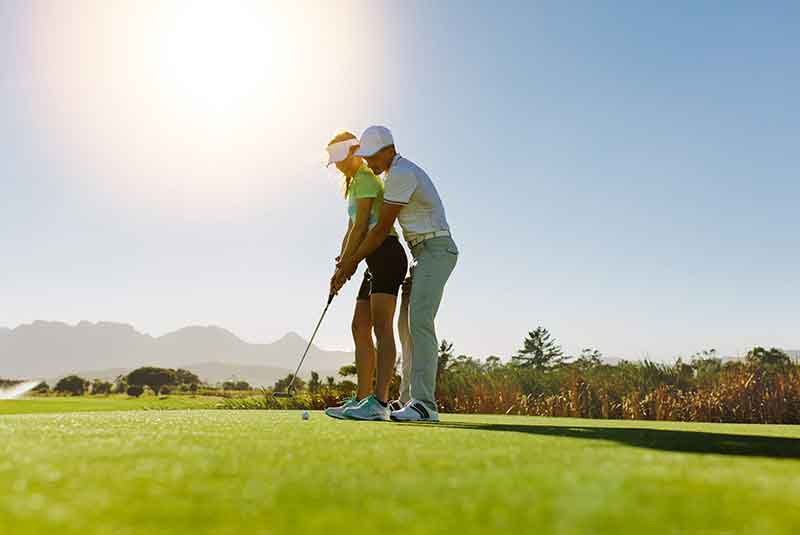 The fact that he did no travel with the junior team makes one wonder whether he understands his job and role, and one would question where his interests lie.
He is the National Junior Golf Coach, for heaven's sake! His presence was required at that competition. If he has no time for these kids, then they, and we do not need him.
Several times in the past, this column has decried the absence of a qualified PGA-Certified golf teaching professional in Kenya.
One who understands the golf swing, not just the basics but the intricacies involved when dealing with advanced golfers who probably have never quite learnt golf the formal way. And one who knows how to teach.
The JGF/KGU should have started by hiring a competent golf institution to design a comprehensive national junior golf development program. This would then have been submitted to an independent expert for review, and also to the stakeholders and Kenya golfing clubs.
art of the program would include a strategy to process juniors from the grass roots over a period of at least ten years, over the entire country. The other part is, of course, the contents of the curriculum itself.
We would also be interested in the facilities he is using; the facilities, equipment and teaching aids the coach is using. Those of us in the industry know what equipment is required. From impact bags to swing analysis software.
Serious golf instruction requires some in-class instruction and JGF/KGU will have to arrange for that. In a previous article, I called for the development of a National Golf Academy at the proposed National Golf Course at Kasarani. Whatever happened to those?
I do not expect a national coach to train all the juniors in the country alone. He would be required to engage some of our local pros and delegate some of those tasks to teachers based far away from Nairobi, be it Mombasa or Kisumu.
To do that he would need to design and run a training-of-trainers workshop for these teachers, usually club pros.
Only after a national golf strategy has been designed would a national golf coach be hired. His contract would be to deliver particular targets per the designed strategy. Right now it appears that the coach has an open book and is playing it as a know-it-all who is doing us a favour.
Each of these kids needs a dedicated growth and training program that must be customised to fit the particular student. Progress on these programs must be clearly recorded and auditable.
By now I would expect this national golf coach to have amassed copious notes and training and swing analysis videos of each of the juniors that he has been handling.
Such material and records enable monitoring and tracking of the young golfer's progress, picks out areas for improvement and charts the way forward. The records remain the property of the JGF. Do we have any?
I have some serious doubts on the competence and abilities of this national junior's golf coach. Over to you JGF/KGU. You are being had and are most likely just blowing your hard-sourced funds. Please don't make the same mistake KFF keeps doing with Soccer coaches.
Lofty dreams about success in golf have to be realistic. Plan, dream and swing with your eyes open.
[email protected] @pigamingi1