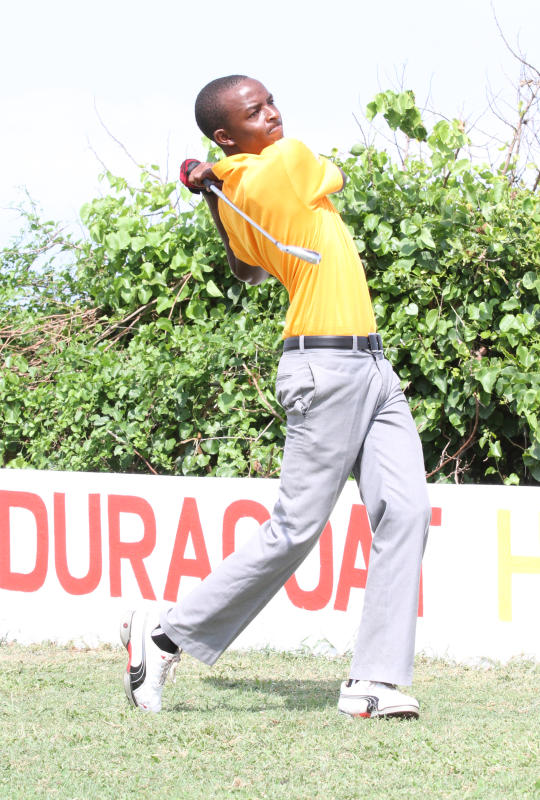 Kenya Railways Samuel Njoroge seeks back to back wins at the Nyali Open Golf Championship that runs at the par 71 Nyali Golf and Country Club course in Mombasa from tomorrow.
The two-day tournament brings together top amateurs in the country ahead of finals of 2019 Kenya Amateur Golf Championships (KAGC).
The event, formerly known as Golfer of the Year (GOTY) and organized by Kenya Golf Union (KGU), will come up with the 2019 Golfer of the Year.
Njoroge, who is the 2018 Golfer of the Year, leads the KAGC series with 597.1 points ahead of Nyali's Daniel Nduva with 456.0 points and Great Rift Valley's Simon Njogu, who has 305.0 points.
"I have trained hard on my putting and I am now in good form. I hope to retain the trophy," said Njoroge.
Others in top ten are William Odera (289.2 points), Taimur Malik (258.9 points), Mutahi Kibugu (219.9 points), Paul Muchangi (193.4 points), Peter Rimui (179.8 points), John Kariuki (140.4 points) and Ebill Omollo Otieno (135.1 points).
In club category, Vet Lab currently leads the ranking with 721.4 points ahead of Muthaiga are second (479.2 points) ahead of Railways Golf Club (415.2).
Nyali Club's manager Eunice Masila said preparations for the event are compete and the weather is favourable.
Meanwhile, Kenya Open Golf Limited (KOGL), the owner and organizer of the Safari Tour Golf Series, yesterday postponed the Muthaiga Golf Club leg of 2019/2020 Safari Tour Golf series, which was to start tomorrow through to Wednesday.
KOGL tournament director Patrick Obath said the decision was occasioned by heavy rains that has rendered the course unplayable.
"Due to recent rains, the Muthaiga Golf Club has received 284mm of rainfall in the last 10 days, making the course unsuitable to hold a Safari Tour Golf series event," said Obath.
He said the decision was reached after considerations on players' safety and the tournament's standards, adding that another date for the event will be communicated in due course.
The 2019/2020 season of the tour has so far featured six competitions across Kenya and Uganda, producing five winners. They are Greg Snow, Madalitso Muthiya, Tonu Omuli, Jastas Madoya and two-time winner Dismas Indiza.
Meanwhile six junior golfers from Mombasa will be in Uganda this weekend for this year's Serena Junior Championship and Golf Camp set for par 72 Lake Victoria Serena Golf Resort and Spa Course in Kampala.