Swedish Professional Lady golfer Engstrom takes early lead at Vipingo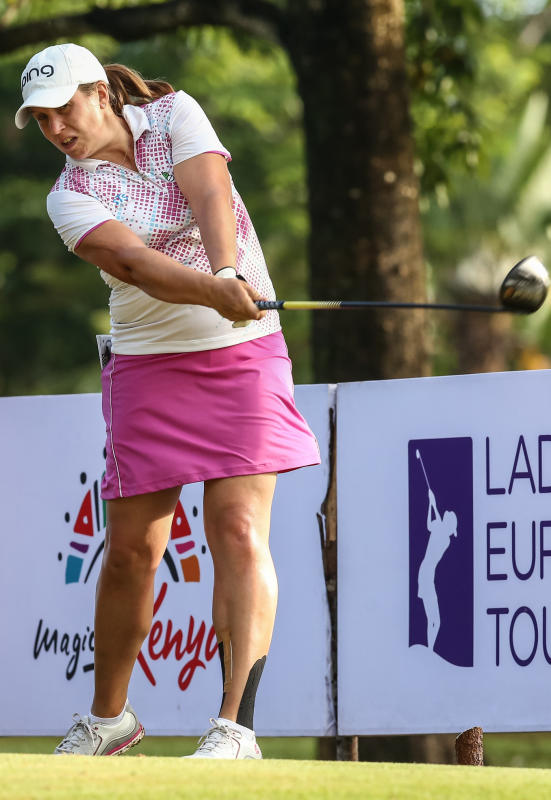 Swedish Professional Lady golfer Julia Engstrom returned an excellent seven-under-par 67 gross to take the Day One lead of Magical Kenya Ladies Open Championships at the par 72 Vipingo Baobab Ridge Golf Resort Course in Kilifi yesterday.
The 18-year-old golfer, who turned professional last led by a stroke difference to English Lady Professional, a 27-year-old Liz Young, who returned a four-under-par 68 gross for a second-place ahead of today's action.
German's Henseleit, who is second on the Ladies European Tour (LET) Order of Merit and who was the individual PRO-AM leader on Wednesday, posted a three-under-par 69 gross to share the third slot with Astrid Yason De Praddnenne from France after both returned the same score.
American Star Cheyenne Woods, niece to former world number one Tiger Woods, brought a two-under-par 70 gross for the fourth slot.
Meanwhile, KCB Bank has boosted the Magical Kenya Ladies Open Golf Championship (MKLO) with Sh5 million.
KCB Bank's chief financial officer Lawrence Kimathi, who played in Wednesday's Pro-Am of the event, announced the sponsorship.
"Golf is a sport that enjoys continued popularity, one that combines a premium outdoor experience with a sporting challenge. This is just one reason why golf is one of the sports that KCB Bank has supported for many years," said Kimathi.
He said the bank will continue to strengthen its commitment towards golf sponsorship and never lose sight of Kenya's golfing success story including the Magical Kenya Open both for the ladies and men.
The MKLO Championships for the LET which is also the first time being hosted in the East African region and the final series of its season calendar started on Wednesday with a Pro-Am.
The event is also being presented by Safaricom's Mpesa and Kenya Tourism Board under their Magical Kenya Brand.
Safaricom chief financial services officer Sitoyo Lopokoiyit said yesterday that the LET event presents an excellent opportunity to elevate Kenya as a golfing destination and to also encourage the uptake of the sport among ladies in the country.
"Safaricom remains committed to supporting the growth and development of sports in the country due to its transformative impact to the community," said Lopokoiyit.