Kisia strikes it big at 2018 Coronation & Bender Cup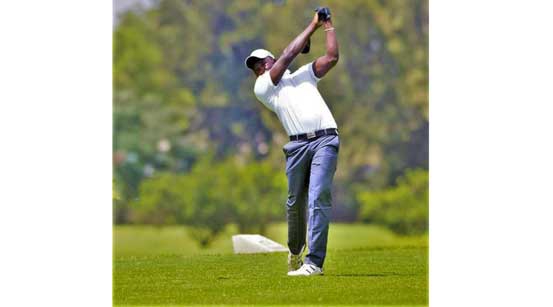 Vet Labs' Mike Kisia is the 2018 Coronation & Bender winner after carding a 36-hole duel with a total of 144 (71,73) at the par-73 Nakuru Golf Club over the weekend.
A resilient Kisia, playing off -2, ?and ranked sixth in the Kenya Amateur Championships leader-board, set the pace early on Saturday, when he played two-under-par 73 ahead of his club mate Robinson Owitim who tied with J Kariuki of Limuru Golf and Country Club at one-over.
Just before the second round, the heavens opened up, forcing the match committee to stop play saying the course was unplayable after the green and fairways were waterlogged. The organisers scrapped off first nine scores from the second round on Day One.?
"Golfers are expected to play on any course, it's unfair to compare Nairobi Club with an upcountry one, they can't be the same," said KGU administrator Michael Ngene.
Kisia knew that he needed to play well in this tournament to stand a chance at the forthcoming Kenya amateur strokeplay championships slated for Thika Greens Golf Resort this weekend. Handicap 8 and below golfers will take part in the event.
"My focus going into the Coronation Cup tournament was to play well, better than I did at the Victoria Cup," said Kisia after his win.
"I have been struggling with my tee-shots and a few misses on my short-game too. Knowing this, I have tried to rectify the mistakes. It's not where I want it but am working on it."?
On the final day, Kisia played level with the course after playing one-under on the front nine before shooting one-over to level the second nine.
With his focus already set on the 2019 Kenya Open, Kisia knew that he had to begin posting impressive results.
Paul Muchangi of Limuru Golf and Country Club had a near faulty start on the first day finishing second after returning with 150 (76, 74). S Njogu 151 (76, 75) and Robinson Owiti 151 (74, 77) tied for third place.
Most of the amateurs had a rough day as the greens were not up to par, especially on day one.
"The greens were playing hard and a bit uneven, but on the second day, they were softer," said Edwin Mudanyi. [Mose Sammy]