Christine soars at Barclay's Nairobi open as Kenya open gets $1 million richer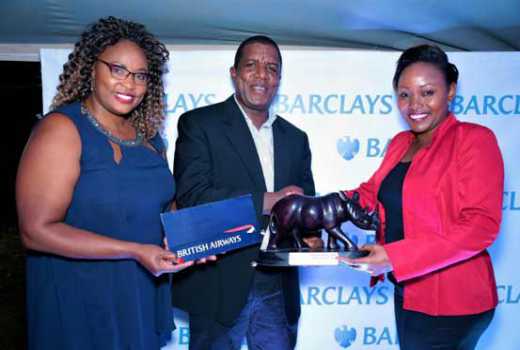 Barclay's Kenya Open got a major shot in the arm as the Kenyan government injected $1 million (Sh 100, 000 million) to the Kenya open golf limited the event organizers towards the prize fund which already stands at Euros 500, 000 (Sh 62.5 million shillings).
Announcing this during the prize giving dinner for the second leg of the Barclays golf tour played at the Karen golf and country club, KOGL Publicity & sponsorship director Kathleen Kihanya, said that the money would boost the prize kitty to make the premier golf event more lucrative and increase the stature of Kenya Open and chances of joining the European tour.
Barclay's have sponsored the Kenya open seven years in a row and are the title sponsors' of the 50th Barclay's Kenya open which will be held at the Muthaiga golf club from March 22-25 preceded by a Pro-Am on March 21.
The event is also sponsored by British Airways, Multichoice/Supersport, Safaricom limited, Lyntons Pharmacy Intercontinental Hotels among others.
Barclay's Nairobi Open is part of a six tournament series of curtainraiser events that for the Open that started in Eldoret late last year, the events which target amateurs and junior golfers will move to Nakuru Open at the Nakuru golf club next Saturday, February 10, then proceed to the Nyanza club for Kisumu open on February 24, 2018.
These will be followed by the Coast open at Nyali golf and country club on March 3, 2018 before winding up with the Mt. Kenya Open at Thika sports club on March 10, 2018.
The series will culminate in the 50th anniversary of the Kenya Open in which 25 local pro will be battling it out with 150 foreign pros' for a share of the prize fund with foreign based pro's and amateurs.
At the Barclay's Nairobi open, Christine Ochola shot an authoritative round of 45 stableford points to claim the Overall title during the event played under scorching sun.
Christine playing off handicap 27, posted 24 stableford points on the outward nine before topping it up with 21 stableford points from the inward nine to guarantee herself a handshake with the sponsor.
"I had a very anxious back nine when we started our round due to the Team ball which was giving me so much pressure everytime it was my turn to play it, but my team mate gave it a dip on the 14th and henceforth my game was easy and as I went to the front nine since we had started on the back nine, my mind was settled and I decided to manage my game as it changed for the better and Alas! See whose the Supergirl " Said the jovial Christine of her win.
The win saw Christine win herself a return Business class air ticket from British Airways who are part sponsors of the Open to any destination on the British Airways route network.
Davies Maina was the Men winner on a score of 43 stableford points with Tom Simba bagging the Men second winner's prize on a score of 42 stableford points.
Carren Agengo donned the Ladies gong with 41 stableford points as Betty Gacheru took the Lady second prize on a score of 37 stableford points.
Irene Juma was the 1st Nine winner with 23 stableford points as Robert Keter won the 2nd Nine prize with 22 stableford points.
Moses Kiboi was the Staff prize winner on a score of 34 stableford points edging out Yusuf Omari on countback to Staff second prize winner on a similar score of 34 stableford points.
The mens' Longest drive prize went to F Karanja with Kezie Kihara taking the Longest drive ladies prize. Stanley Kirui won Nearest to the Pin men prize as Vicky Karuga took the Nearest to the Pin ladies prize.
The Team ball prize went to the team comprised of; Davies Maina, David Holte, and L. Munyua beating two other teams on countback on a score of 38 stableford points with A Mulisa who managed 7 stableford points for the round of 18 taking the Best Effort/Piga Mingi prize.
Barclay's Kenya Open highlights;
- 50th year since in inception.
- Aaron Rai Barclay's Kenya Open 2017 winner
- 150 Pro-Am expected at this years even.
- 25 local pro's to take part.
- 62.5 million prize fund.
Barclay's Nairobi Open winners;
- Overall winner - Cristine Ochola 45 pts.
- Men winner - Davies Maina 43 pts.
- Men second - Tom Simba 42 pts.
- Lady winner - Carren Agengo 41 pts.
- Lady second - Betty Gacheru 37 pts.
- 1st Nine - Irene Auma 23 pts.
- 2nd Nine - Robert Keter 22 pts.
- Staff winner - Moses Kiboi 34 pts (CB).
- Staff winner - Yusuf Omari 34 pts.
- Longest drive Men - F Karanja.
- Longest Drive Lady - Kezie Kihara.
- Nearest to the Pin Men - Stanley Kirui.
- Nearest to the Pin Ladies - Vicky Karuga
- Team Ball - (D. Maina, L. Munyua, D. Hotte) 38 pts
- Best Effort - A Mulisa 7 pts.