Timbe leads in Uganda Open Golf championship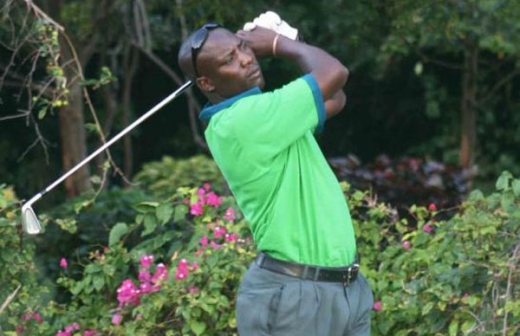 Muthaiga's Kopan Timbe came from behind on Friday to lead on Day Three by positing a total of 216 gross and keep the Kenyan flag high at the ongoing Tusker Malt Uganda Open Professional Golf Championships at the Kitante's Uganda Golf Course in Kampala.
However, it was not a sweet lead as the score was hotly shared by Zambia's Madalisto Muthiya with South Africa's Joshua Seale following closely by a stroke difference behind.
Timbe is among the eleven Kenyan professionals who made the cut of 30 golfers on Thursday evening to the third and the grand finals that was expected to end by last evening.
"We are motived and determined to bring the trophy home and I hope my putting will be better than I have been playing in the last two days," Timbe said.
The rest in the top ten were were Saidi Mawa (Uganda) 218 gross, Stefan Anderson (Kenya) 218 gross, David Odhiambo (Kenya) 219gross, Philip Kasozi (Uganda) 220 gross, David Opati (Kenya) 221gross, Fred Wanzala (Uganda) 221 gross, Vinvent Byamuka (Uganda) 221gross, Simon Ngige (Kenya) 222 gross and Anil Shah (Kenya) 223 gross.
The golfers are battling for the title prize money share of sh 3.2 million from Uganda Breweries Limited (UBL) who are the main title sponsors under their Tusker Malt brand.
The four-day championship attracted an estimated 100 golf professionals in the 74th edition of event organised by Kampala based Hill and Knowlton Strategies.
Among the countries attending are hosts Uganda, Kenya, Tanzania, Rwanda, Nigeria, Ghana, South Africa and Zambia.
Mumias-based professional Dismas Indiza opened the winning trend for Kenyans in the opening match on Tuesday where he carded a five under par-67 gross to lead the Pro-Am.
On Wednesday, it was Simon Ngige's turn. He posted a six under par-66 gross to lead Day One that has eleven Kenyans who made the cut to Day Two and the final rounds.
Charles Wangai, the Captain of the Professional Golfers Association of Kenya yesterday insisted that Kenyans are playing the championships as wounded lions having lost the trophy to Uganda last in hotly contested event.
Last month, Kenya's Jacob Okello led his colleagues to claim the first five top slots during the 2016 Tanzania Open Championships at Arusha Gymkhana.
Uganda Golf president Johnson Omollo yesterday said that the Championship continues to grow and is one of the toughest in the East African region.