By BEN AHENDA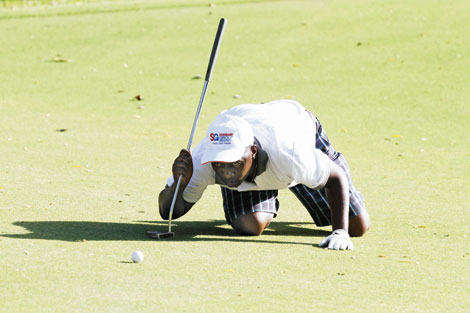 Joseph Tango strategises before putting at the The Standard Group Golf series in Mombasa, earlier this month.
The Standard Group County Classics Golf Series tees-off on Saturday at Nakuru Golf Club, having been played in four other clubs across the country.
Over 130 players have registered for the one-day tournament but more are expected as the teeing off continues.
The players are drawn from several clubs from the region and a few selected clubs across the country.
They come from Naivasha Golf Club, Njoro Golf and Country Club, Nyahururu Golf Club, The Great Rift Lodge Golf Club in Naivasha, Kericho Golf Club and Nandi Bears Club.
The Standard Media Group who are the main sponsors have also invited some of their potential advertisers to play alongside the golfers from these clubs.
The Standard Group Regional Commercial Manager Joseph Yego confirmed that they have invited at least 20 advertisers to the tournament.
"We expect them to give these experienced golfers a run for their money," he told FeverPitch.
Nakuru Golf Club captain Njuguna Njoka confirmed all players are ready for the championship and most of them are fit for the event having undergone rigorous training in the course of the week.
"All players are ready to showcase their talents tomorrow and they are all eager to give each other a run for their money as others will try to improve their handicaps," Njoka told FeverPitch.
Registration is still open to other players upto tomorrow morning.
Njoka said he expects some players from The Standard Media Group to register for the competition.
"Other golfers who have not been paired will also be allowed to register tomorrow morning as the teeing on goes on," said the club captain.
"The doors are still open to more golfers but they must keep time," he added.
So far The Standard Group County Classic Golf Series has been held in four clubs across the country which include Thika Sports Club, Eldoret Sports Club, Kakamega Golf Club and Nyali Golf Club in Mombasa.
From Nakuru, action shifts to Nyeri, Machakos, Nyanza Golf Club and the finals will be at Muthaiga Golf Club in Nairobi on December 7.