Mukangula shrugs off weight criticism to become key player for AFC Leopards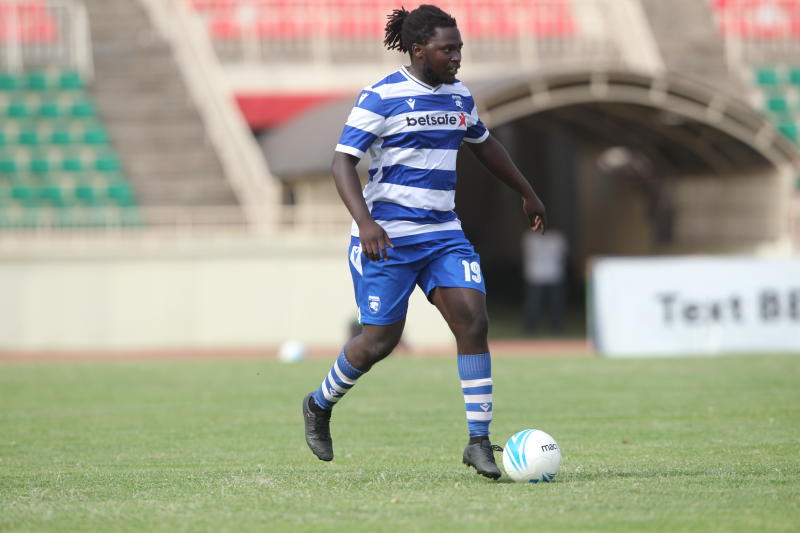 He might be struggling with his weight, but Eugene Mukangula has become a key figure for AFC Leopards in the ongoing FKF Premier League season.
Though Ingwe has been flirting with relegation for the better part of the first leg, the former Thika United man is one of the few bright sparks in the den.
With his performance in the last few games for the 12th placed Leopards that came with five goals (club's current top scorer) and a number of assists, Mukangula is proving that form is temporary class is permanent. And no matter how comfortable it may appear, this is no mean feat for the former Kenya U17,U21 and 23 attacker. He joined AFC in 2018 from Thika United.
Having been transformed from a striker to a midfielder he has clear shown that he still has his scoring touch if his recent display is anything to go by. His first touch and killer passes are always magical, and very thing he touches seems to be turning into gold.
He has literally shrugged off fans mockery to establish himself as one of the best players in the league at the moment.
Initially, Patrick Aussems fielded Mukangula as a defensive midfielder before he redeployed him as an attacking midfielder. Together with the trio of captain Marvin Nabwire, Dan Musamali and Brian Wanyama in the midfield they have become a key component in AFC's improvement in the league. Leopards have lost only once in their last nine matches.
And for Mukangula, who's thank Aussems for putting his faith in him, he is not scoring goals to prove his critics wrong but to help the club.
"It's not about proving them wrong but the mentality and what I've for the future. I've my goals as a player and the team has its goals. So, I cannot focus on them, I'm just focusing on myself," Mukangula told Standard Sports after he scored and provided an assist in AFC Leopards' 2-1 win over Mathare United at Nyayo Stadium on Sunday.
"I'm grateful for the performance. It's an honour being able to score in almost each and every game; that's an average of 1.5 goals. But it goes back to the team because they are helping me. And to the coaches, thanks a lot for encouraging me to push in each and every game."
Asked about the secret behind his recent impressive performance, Mukangula said: "I just follow coach's instructions. He's actually doing all the work; telling me to play and where to be. But without hard work and discipline you can't play at this level for long. That's the secret. I however agree that form is temporary class is permanent."
Though he's only four goals shy of leading scorer Clifton Miheso (Kenya Police) and Felix Oluoch (Kariobangi Sharks), Mukangula insists that his target is to ensure the club performs well.
"To be honest, I'm not concentrating on the golden boot or individual accolades, but just helping the team. That's the most important thing, I cannot talk about the top scorer right now because I cannot play alone, I need my teammates and the coaches. It's not all about the top scorer but the team," he said.
Despite being one of the longest-serving players in the den, he has been encouraged by talent in the den.
"They are all good boys, you've seen them on the pitch and what they can do. I also learn a lot from them because they are the young generation; they are the players for the future," said Mukangula.
But Leopards coach Patrick Aussems appears not to be concerned with Mukangala's weight as he hailed his impact both on the pitch and dressing room. He terms him as one of the most intelligent players in the league.
"He's a great game reader and his experience is invaluable to the team. He is technically superb, intelligent and knows what to do with the ball; he doesn't succumb to pressure whenever he's an opportunity to score," said Aussems.
"I don't want to talk about his weight because he's doing the right job for me. If he loses five-six kilos he will perform even much better but I'm satisfied with his input."
He continued: "I prefer someone who plays 50 minutes or so but gives me 100% and is efficient. That's exactly why I always substitute him after 60 minutes."
Madoya, Ooko command leaderboard
Uganda Open champion Justus Madoya joined Golf Park's Erick Ooko at the top of the leader board going into today's final round of the 2022 Safari Tour