Twaha, Nyamweya followers differ as stakeholders angle for FKF fallout spoils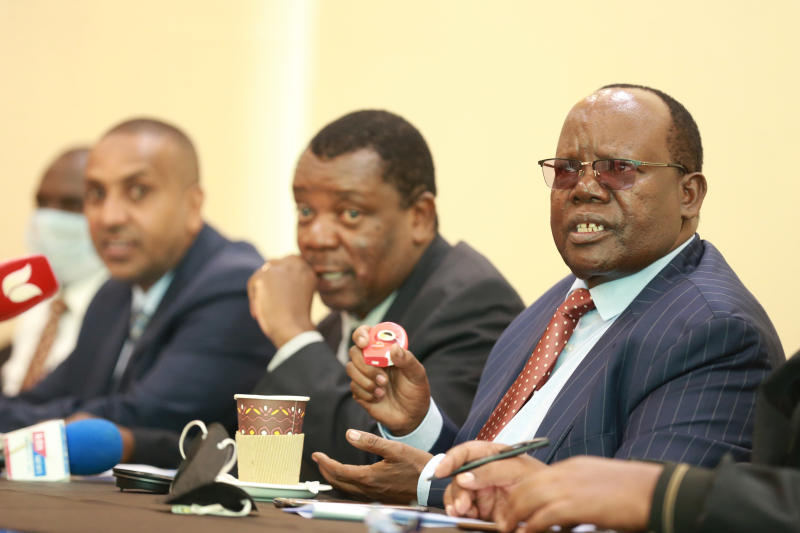 A mediator has been selected by football stakeholders to see a smooth election of a leader to replace former Federation of Kenya Football (FKF) chair Nick Mwendwa.
Andrew Amukowa a former chairman of western Kenya Western region will help the factions choose between former FKF chair Sam Nyamweya and former FKF Vice-President Twaha Mbarak to replace Mwendwa after Sports CS Amina Mohamed disbanded the Federation.
"We are in agreement with the action of the State to disband FKF and want the purge to extend to the grassroots. What we've not agreed on is who should replace Mwendwa between the two gentlemen," said Amukowa during the national meeting of County Football Associations across the nation held in Kakamega on Friday.
Mwendwa is facing allegations of misappropriation of the federation's funds.
Nyamweya and Mbarak remained measured in their speeches during the meeting, but their followers almost exchanged blows when deliberating on whom between the two was best suited to replace Mwendwa.
Mbarak's team wanted a vote to be carried during the meeting while those aligned to Nyamweya thought it wise to vote at a later date.
The war of words, which led to the officials locking out the media was downplayed by Amukowa, who brushed it off as a lesser trouble than graft which has bedeviled football in the country.
"Our greatest problem is corruption in the football governing federation in the country. We need new leadership with integrity that will make sponsors want to associate with our football," he said.
"The football stakeholders including referees, retired football stars, coaches and regional and grassroots representatives were keen to see giant sponsors like Super Sports return to the county.
"They pleaded with politicians and lawyers to keep off FKF affairs saying that would amount to bringing more confusion in an already troubled federation.
"They asked for the caretaker committee that was formed after the disbandment of FKF to give guidelines of "dissolving constituency offices and not only the FKF Executive.
"We have had cases where FKF officials at the grassroots walk in constituency offices to take money for their personal use in the guise of promoting football talent. The rot was from the head to the whole body," said Peter Lisero, the secretary of the football association in Vihiga County.
They supported CS Mohamed's stance of disbanding FKF saying it was long overdue to restore sanity in the sport and revive football standards in the country.
They equally supported the ongoing dialogue between FIFA and the Kenyan government in line with returning sanity in football administration in the country.
The meeting came as Sports CS disbanded the Mwendwa led FKF last week.
FKF is now under the temporary leadership of retired judge Aaron Ringers for a period of six month awaiting elections.