Amina sacks FKF officials over graft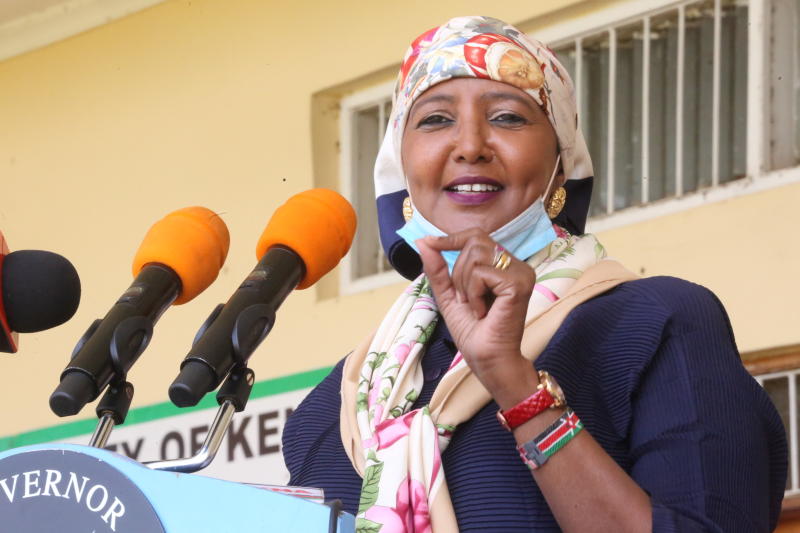 Accusations of misappropriation of government grants and funds from the world football governing body, Fifa, forced Sports Cabinet Secretary Amina Mohamed to send packing officials of Football Kenya Federation (FKF).
While addressing the media after installing a Caretaker Committee to be chaired by Justice (Rtd) Aaron Ringera, Amina said she took the action based on recommendations of an inspection report on FKF finances.
"When Kenyans finally get to see the entire report, they will see the extent of misappropriation of government grants and also money from external donors including Fifa," CS Amina said.
"The probe was conducted in accordance with the law. We were not going to do it haphazardly; we were not going to be ad hoc. We had to be systematic, follow the law and all the procedures that exist," CS Amin said.
The 16-day probe according to the CS revealed massive misappropriation of public funds that warranted immediate action. "The probe committee encountered reluctant FKF officials, who refused to provide some important documentation," she said while flanked by the Sports Principal Secretary Joe Okudo, Acting Sports Fund CEO Mark Wambugu, and the chair of the probe Committee Mike Kimoko.
Although it may have been a matter of when not if the Sports CS would crack the whip on troubled national football body, the events yesterday ended with an installation of a Caretaker Committee.
CS Amina had been scheduled to appear before the Senate Committee yesterday morning but skipped the invite as she was busy releasing the inspection report she had ordered conducted on FKF.
Her no-show did not go down well with senators led by Mutula Kilonzo Junior (Makueni) and Susan Kihika (Nakuru) who accused the Sports CS of treating the committee with contempt.
The Senate Committee chaired by Nairobi Senator Johnson Sakaja was expecting CS Amina to shed light on the probe on FKF following a complaint by his Makueni counterpart Mutula Kilonzo Junior for what he called "Impromptu inspection."
Senator Kihika said: "Amina's decision not to appear before this Committee is unacceptable. She must be summoned as soon as possible."
Sakaja ordered that Amina appears before it on Tuesday.
Asked why she skipped the Senate meeting, CS Amina said: "I actually have a clear mandate within the laws of this country, the Sports Act to be specific. I have just exercised those powers. I think that the Senate, too, is exercising the powers it has and so I hope that we can all agree that we need to work together to ensure that football in our country is rescued and put on the right track.
"I think the Senate is aware of how Kenyans feel, how stakeholders feel, how branches across the country feel about what has been going in the last few years. And I think it was just time to do what we have done," CS Amina said.
She added: "That is why I called on the Registrar to appoint members to the task force. She did it and received the report on Monday and handed it over to us after she had gone through it to make sure that it adhered fully to the law.
"So this report fully adhered to the law. Any measures we have taken are in line with the laws of this country. And therefore, we are hoping we will get another opportunity to share it with the Senate Committee.
"The recommendations of the probe necessitated that immediate action be taken."
"The Senate and the Executive are both arms of government and therefore, we took the decision in line with my mandate following the findings," Amina said. [email protected]
"I am hoping that we will navigate this with Fifa, whose values are also against corruption. We have written to Fifa and shared with them the findings and recommendations," Amina said.