Kenyans must unite to evict Mwendwa and his team by all legal means available - Sports administrator Mbarak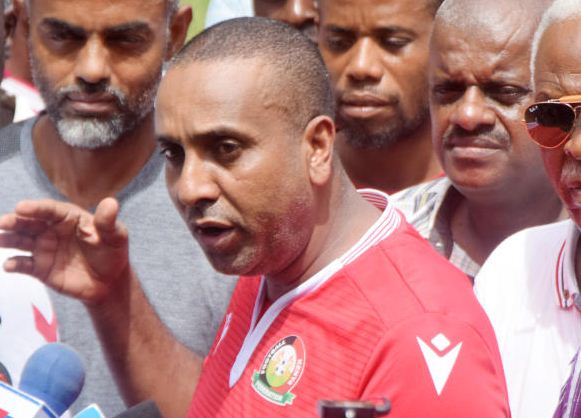 Sports administrator Twaha Mbarak has called on football enthusiasts to unite and evict Football Kenya Federation president Nick Mwendwa and his team from Kandanda House through all legal means available following Harambee Stars' defeat to Mali.
On Sunday night, Kenya's dreams of playing in their first-ever Fifa World Cup finals went up in smoke after Mali emerged 1-0 winners in the return leg of the Group E qualifiers played in Nairobi.
The defeat follows Harambee Stars' 5-0 loss to Mali last Thursday.
The two consecutive losses left Stars third in the standings with two points, eight behind leaders Mali.
In an interview with NTV on Monday night, Mwendwa said that he believes not even AS Roma coach Jose Mourinho or Arsenal's Mikel Arteta can prevail with the current Harambee Stars team adding that the quality of Kenya is wanting and he is keen on finding a solution.
"Even if you bring Jose Mourinho, even if you bring Mikel Arteta....the work that needs to be done is that we need to bring talent to the table. For you to win, you need quality players," he said.
"Let us look at Mali for example. Are we better than them? The answer is that we are not because we never brought our players to that level."
But for Mbarak, the federation boss and his accomplices must be evicted from Kandanda House by all legal means available and should take full responsibility for Stars' failure to qualify for the World Cup.
"Mwendwa remarks after Mali humiliation unfortunate must be removed by all legal means available," said Mbarak.
"I have followed with disbelief the statements by Mr Nick Mwendwa following the double loss to Mali by the national football team, results which have effectively ended any dreams of qualifying for the World Cup 2022 in Qatar.
"While the loss itself is a painful pill for Kenyans to swallow, it is catastrophic that the same individual who should take responsibility for the ineptitude of the federation he is leading.
"It beggars belief that Mwendwa despite being in charge of the team, has turned against the players; going as far as suggesting that Kenya suffers from a deficiency of football talent.
"This is an insult to the Kenyan people and a stone-faced, shameless justification of the failures he has presided over since coming into the office and illegally extending his term."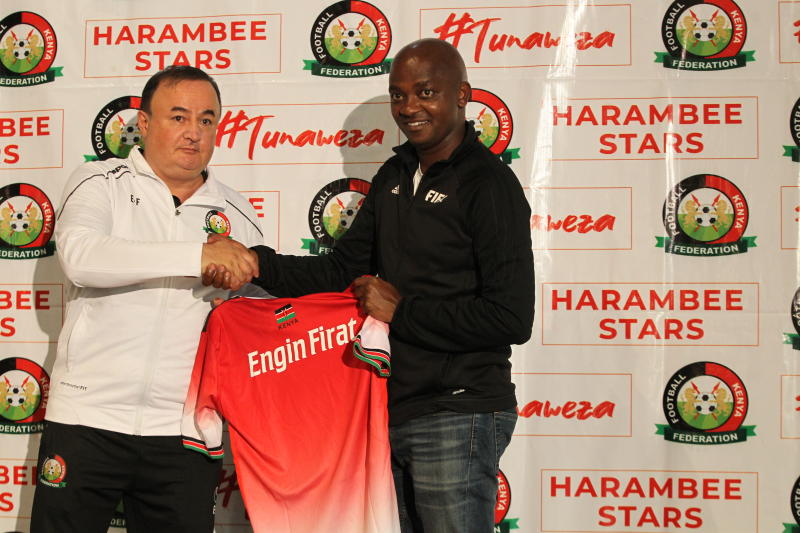 Jacob Mulee (2020-21), Francis Kimanzi (2019-20), Sebastien Migne (2018-19), Stanley Okumbi (2016-17, 2018) and Paul Put (2017-18) have come before Firat since Mwendwa took over running the FKF in 2016.
"Mwendwa must not shift blame elsewhere when he has subjected Kenyan football to untold ridicule as recently testified by the sacking of Jacob Ghost Mulee and replacing him with another on a two-month contract – a seventh coach in 6 years he has been in charge," he continued.
"I am calling on, not just football stakeholders, but all Kenyans to now unite for the sole purpose of having Mwendwa and his accomplices evicted from Kandanda House through legal means so that they can face justice for destroying Kenyan football through massive corruption and abuse of office, among several other crimes committed throughout their term in office.
" I also plead with the government and FIFA to listen to the cries of the Kenyan people and take decisive action to rescue the beautiful game from further destruction by Mwendwa and his ilk.
"We are engaged in wide consultations and we will give direction on which way football lovers must take to ensure they reclaim their football for the sake of our youth whose talents are being wasted."