Gods must be crazy as cost of FKF Premier League trophy divides local football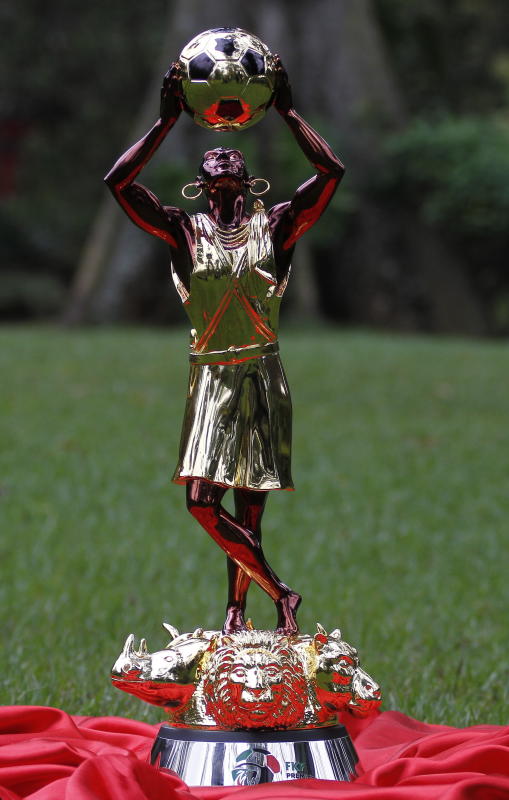 Just how much did the FKF Premier League trophy cost? Like the coke bottle in The Gods Must Be Crazy comedy film by Jamie Uys, the newly acquire trophy has touched off a serious falling out between Football Kenya Federation president Nick Mwendwa and two of Kenya's biggest clubs; AFC Leopards and Gor Mahia.
Mwendwa, pompously announced on Citizen TV on Wednesday that the 24-carat gold-plated trophy weighing 11kg had cost "upwards of $50,000".
Perhaps feeling slighted by the 'lavish' spending on the gong, Gor Mahia and AFC Leopards accused FKF of intentionally neglecting to remit to them sponsorship grants from broadcast rights holders StarTimes and naming rights holders BetKing.
The two cash-strapped clubs also played in the Betway Cup final four weeks ago, but have not been paid their winnings. Gor Mahia are also still waiting for their winner's prize money for the 2020 season.
To express their displeasure, the two clubs did the unthinkable. They refused to play the league's signature fixture, the Mashemeji Derby on Sunday.
Mwendwa's response was swift. He fined AFC Leopards Sh6million and Gor Mahia Sh4million besides docking each team three points. He went further and provisionally suspended the two clubs' chairmen Dan Shikanda and Ambrose Rachier. In short, the gloves are off.
As the new battle front unravels, it is emerging that the 'golden trophy' that Mwendwa said cost "upwards of USD50,000" could actually have been acquired for much less than the pompous declaration.
Documents seen by Standard Sports reveal that the trophy, designed by Crystal Arc - a Dubai-based firm - cost just over Sh1.1 million including shipping charges.
During the interview on Citizen TV on Wednesday, Mwendwa was asked how much the trophy cost, the FKF boss responded: "[Haaaaaaa], I didn't want to talk about how much it is worth..." as the interviewer Trevor Ombija pressed for a rough figure. "Give me a range," Ombija asked.
"But it is a couple of dollars." Give me a range. "It is a couple of thousands of dollars, alright? We really went out of our way to… to…to make sure that it's eeeeeh… We are talking about upwards of fifty….
Ombija: "Upwards of 50,000 dollars?"
Mwendwa: "Yes, to make sure that we have a trophy that represents what Kenya is."
Ombija: "That is more than five million Kenya shillings.
Mwendwa: "Yes, and it took a long time to make, so… may I remove it?"
A source has authoritatively told Standard Sports that the terms and conditions for the purchase of the "rubberised Masai man with gold mirroring" included an upfront payment of Sh100,000 and the balance upon completion of the work in 20 days.
The source further confirms that FKF paid the amount in cash on March 21 vide an invoice no. 33523.
Standard Sports could not confirm whether the trophy was shipped to Kenya or a FKF official travelled with it, meaning if the latter is the case then the KSh500,000 shipping charges would not have applied.
Standard Sports has independently verified that an invoice which has been circulating on social media is indeed from Crystal Arc, showing details of the specifications of the trophy and the actual cost.
If the latest shenanigans are anything to go by then this exalted trophy may yet be another be another coke bottle of the Gods Must Be Crazy kind.