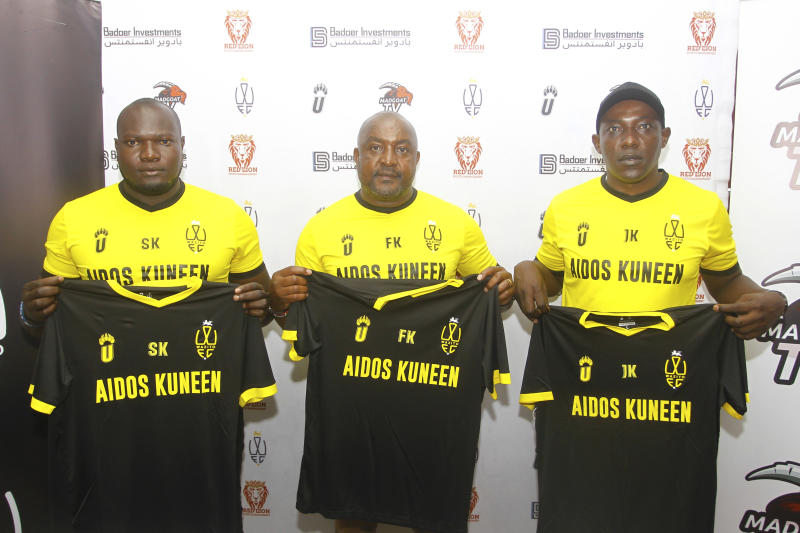 Kimanzi says he will make league rivals feel Wazito's weight
Netherlands-trained tactician signs four-year deal with FKF-PL side
Former Harambee Stars coach Francis Kimanzi is grateful to make FKF Premier League return, but says it was not an easy decision to make.
Though Kimanzi is aware of the task ahead of him, he is confident of turning around Wazito's fortunes in their five-year strategic plan.
The Dutch-trained tactician, who has been offered a four-year deal by Wazito, landed the new job barely a month after parting ways with the Football Kenya Federation (FKF).
"I'm very grateful and honoured to be here. It wasn't an easy decision to make because of the culture of the club (Wazito) and what I need as an individual. But at least after one to two weeks of trying to get things together, we managed to come in as one team in a full agreement with a common objective," Kimanzi said during the unveiling yesterday.
"I'm once again honoured, more so because they don one of my favourite jerseys (yellow). For some reasons, I don't want to get into details. When I'm in a yellow and black jersey I always feel at home and more successful. And history speaks for itself on that part."
Kimanzi says he is on a mission of not only winning trophies with Wazito and helping players realise their dreams, but also leaving a lasting legacy at the club.
"I'm also happy I managed to pull together a very capable technical support team to help me to better the objectives and achievements of Wazito. We will do it for sure. We have a mission and we must achieve it," Kimanzi said.
"To be another force in the league is also very important because we will be capable of developing players and helping them achieve their dreams. Of course we want to leave a legacy. But it is not going to be easy because of the balance between the football philosophy and human philosophy."
Wazito CEO Dennis Gicheru assured Kimanzi and his team of the management's support.
"We thought of restructuring the club so that we can achieve our long term (five year) strategic plan of winning the league and cups as well as developing our youth team.
"We thought of an experienced bench and that's why we went for Kimanzi and he will be assisted by John Kamau," Gicheru said.
"This is the new team that is going to drive the larger Wazito dream forward. We are very much grateful for Kimanzi accepting to join this great team."
Prior to his national team appointment as an assistant coach in June 2019 and later succeeding Sebastiane Migne in August the same year, Kimanzi, 44, was coaching Mathare United.
He is the seventh coach to handle the Ricardo Badoer-owned Wazito in less than two years.