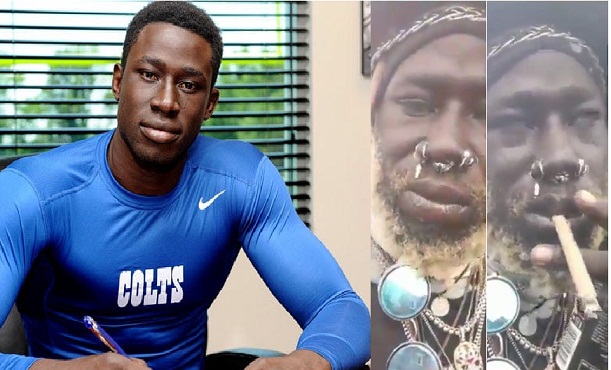 A video of former NFL star, Kenya's history-making, Daniel Adongo looking "unkempt" and "unrecognisable" has alarmed Kenyans and raised questions about his health and wellbeing in the United States.
In the footage, Adongo can be seen wearing rugged clothes and smoking despite the dangers of smoking to athletes, and in particular its detrimental effect on the ability to exercise and play sports.
Adongo, who was the first Kenyan to play in the NFL where he had over a Sh100million contract with Indianapolis Colts as an outside linebacker until 2015, posted the video on his official Facebook page where it sparked widespread debate among netizens and leaders who felt the NFL star needed urgent help.
In a Facebook post, KFCB CEO Ezekiel Mutua said he was saddened by the story of Adongo, who was once the pride of Kenya.
"This story breaks my heart as if this was my own child," said Mutua.
"The reason I talk about values with passion is because I believe that the campaign can save someone like Daniel Adongo from degenerating into the abyss of despair. There's no substitute for values."
From Kenya Rugby to SA to The NFL. Daniel Adongo pic.twitter.com/35tn3wzYrB

— Carol Radull (@CarolRadull) August 13, 2020
What happened to rugby Master Daniel Adongo?????????????????????? Is this Even real??
pic.twitter.com/rK8Wj9X9Fu — DJ Nonsense ???????? (@Dj_Nonsense254) August 13, 2020
Daniel Adongo's best moments and the current moment, sad, we can do something for him #notodrugs @nacada oburu odinga https://t.co/CDXUst7QIF pic.twitter.com/FHewAxppSH — juma wanson (@JumaWanson) August 14, 2020
I will not contribute even a cent towards this fool called Daniel Adongo. He just wasted a golden chance many can't dream of. I'd rather help those who've never been given a chance. Adongo pambana na hali yako. pic.twitter.com/pBelREKSw4 — J A L A N 'G O (@JaIangoMwenyewe) August 14, 2020
As Youths, please stop drug abuse and be responsible when we get such golden opportunities either though our talents or in our businesses/jobs.who would have known this would be Daniel Adongo 7 years down the line. This is so unfortunate.
Oburu Odinga
Sauti Sol
Beyonce
Chelsea pic.twitter.com/RciquZcWSw — Dr. Fredrick Okumu (@DrFredOkumu) August 14, 2020
@silasjakakimba @JalangoMwenyewe @KoinangeJeff @HassanAliJoho @ahmednasirlaw @kipmurkomen @thechelanga Let's bring home Daniel Adongo. ????????????????????????????????#BRINGBACKDANIELADONGO pic.twitter.com/2hTCpEps81 — Okapu ETYANG (@Nicquez) August 13, 2020
Adongo was playing for the Southern Kings, a South African professional rugby union team before being spotted by Johnny Gbenda-Charles, a rugby agent based in Hong Kong.
The then-23-year-old Adongo made history when he was signed by NFL side Indianapolis Colts in 2013 after acing tryouts.
The fast, 6 foot 5 behemoth learned football for the first time that year and was bounced between the active roster and practice squad.
At the height of his career, he weighed an impressive 122kgs and appeared in five regular-season games.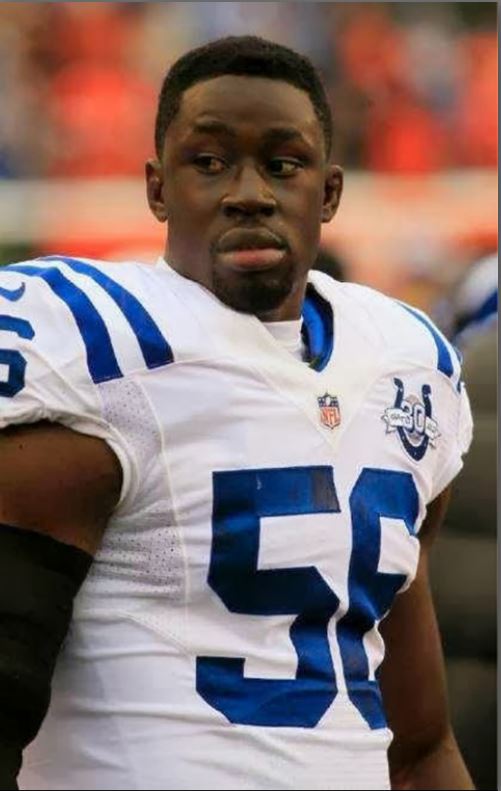 However, the 31- year old's star started diming in 2015 when a daily newspaper in Indianapolis said police were called twice to his residence over a domestic dispute; the ex-linebacker was accused of domestic violence by a woman.
During the second call on December 10, 2015, Dawn Monks, a friend to the woman said she received a text from her reading "help" and "911."
When speaking to the woman, police noted she had a large cut on her lip, marks on her lower wrists and a black left eye.
Soon after, the NFL opened investigations into Adongo under 'its personal conduct policy'. However, no legal action was taken against the athlete.