Former AFC Leopards coach Luc Eymael banned from operating in South Africa for life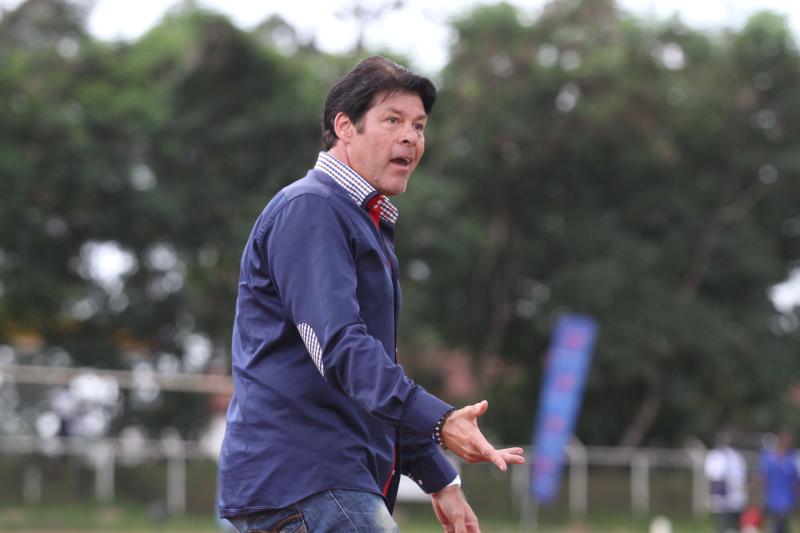 Former AFC Leopards coach Luc Eymael is a man under fire after the South African Football Association (SAFA) banned him from operating in the country for life.
This is barely a day after Tanzanian giants Yanga SC sacked him after he was recorded referring to fans as "monkeys or dogs".
"It is unfortunate that this situation comes in the wake of the global campaign of Black Lives Matter," SAFA said in a statement on Tuesday.
"Africa has the bitter experience of its people being captured and taken as slaves on other continents.
The football governing body in SA added: "We have written a letter to the Minister of Sports to bring this matter to his attention, with SAFA stated position that we will raise an objection to any consideration of granting coach Eymael a work permit in South Africa in the future.
"We will also bring this matter to the attention of the world football governing body, Fifa as well as the Confederation of African Football (Caf). We are in solidarity and support the Tanzania FA and to assure them of our full cooperation on any remedial steps they may consider.
The South African Football Coaches Association (SAFCA) also weighed in with their condemnation of the Belgian tactician, saying he must be banned from working not only in African football but globally to send a strong message to other racists masquerading as "coaches".
— SAFA.net (@SAFA_net) July 28, 2020
Eymael moved to Kenya in 2013 where he signed a short-term contract with Kenyan Premier League (KPL) club, AFC Leopards.
He took charge of the popular football club in April 2013 when they were struggling at the bottom of the table to avoid relegation.
By August 2014, the tactician helped Leopards to secure the 2nd position in the 2013 season, thus helping them qualify for the 2014 CAF Confederation Cup and also helped them win the 2013 FKF President's Cup.
Eymael holds the UEFA Pro Licence, the highest football coaching qualification. He received the UEFA Pro Licence in 2007 and the UEFA A License which he received on 10 September 2002, from the Royal Belgian Football Association.
He has worked with many of Belgium's current and former footballing stars and has played an integral role in their growth including Eden Hazard, Axel Witsel and Christian Benteke among other superstars.