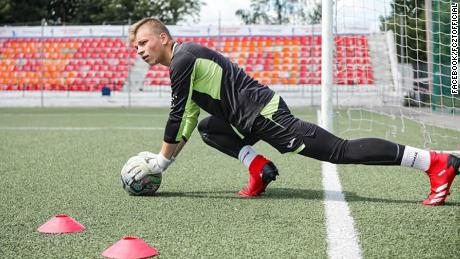 A Russian footballer was on Saturday struck by a bolt of lightning on the pitch during his training session with his teammates.
In a video shared online, Ivan Zakborovsky can be seen preparing to take a shot on goal and was about to kick the ball towards goal when the tragic incident occurred.
SEE ALSO: Willian tells friends he wants Arsenal transfer
The 16 year-old was then taken to hospital where doctors put him into an induced coma.
Confirming the incident, Club general director Igor Mayorov said: "There was a clear sky, albeit overcast, but neither rain nor wind. If there was a thunderstorm, then we would not have been training."
SEE ALSO: Liverpool plotting Sh1.4 billion transfer swoop for Norwich left-back
He suffered severe burn as his club revealed that his condition is stable and there is no "life-threat."
"Everyone acted quickly, very professionally, the ambulance arrived in eight minutes," added Mayorov.
SEE ALSO: Fulham won't overhaul squad for Premier League – coach Parker
"Most likely he had a respiratory arrest, he received first aid, maybe because of this the child is alive.
"We transported him from Orekhovo-Zuevo to the hospital in Lyubertsy. They made an ECG, his heart is normal."
The director further stated that the goalkeeper will continue to be in a coma so that his brain would rest, get saturated with oxygen and that his recovery dynamics are positive.