Shirt sponsorship deal still offers Gor and AFC players little respite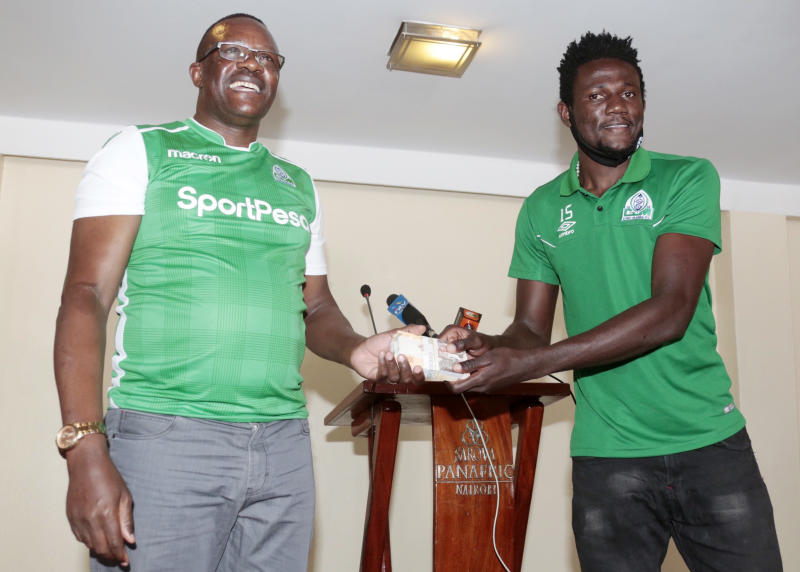 Football fans in Kenya are excited once again with the return of football in Europe and seem to care less when our very own Kenyan Poverty League (KPL) will resume.
In April though, the season was declared over and Gor Mahia made 'champions', but the management of the poverty-stricken body disputed the move and the matter is, as usual, under litigation.
Early in the month, KPL's management said it was "hopeful" and "confident" that they will finish the league — so footballers can be miserable for longer I guess.
What was not said is how the financial needs of the players will be met, meaning that they will still be encouraged to worship poverty, an act that KPL and other footballing bodies in Kenya have perfected.
Some clubs intimated that they did not have the finances for the restart — and at that time some players were struggling to pay their bills and their club management were turning to fans to bail them out.
One of the clubs whose players were hard up financially is Gor Mahia, which this week reportedly inked a shirt sponsorship deal with a betting firm and will get Sh55 million a year.
The other struggling side, AFC Leopards, which was being bailed out by a certain politician, also got a deal from the same firm, and will get Sh40 million per year.
Normally, such deals should make the footballers happy, since they are sure their financial needs will be met, but in the Kenyan Poverty League, it all ends in tears.
Not long ago, these two clubs had the same shirt sponsor, who was also the league's sponsor, but still, the players could go for long periods without pay.
At some point, the sponsors considered paying players directly because it seems their monies were ending up in all places but in footballers' pockets.
So far, no one likes to talk about the welfare of the players, and that their financial needs should be met in time, but officials of football bodies love shouting how Kenyan football is going places. Yes, it is going places – backwards.
While Sh55 million per year might seem like a lifeline and should motivate the players, it is not much for a club whose monthly wage bill is reportedly Sh5.5 million and still owes salaries and bonuses. The other one that has got Sh40 million per year reportedly has a monthly wage bill of Sh4.2 million and it also owes footballers.
According to Rodgers Eshitemi, the Standard Sports Senior Writer, both clubs "had literally been reduced to beggars" and are grappling with "a combined debt of over Sh35m in unpaid player salaries and bonuses."
It is not easy to understand why these two clubs, which are touted to be so big and influential that the Kenyan Poverty League cannot continue encouraging players to worship poverty without them, have to rely on a single sponsor.
Why they cannot use this influence or their size – two qualities they ride on to impoverish footballers – to get other sponsors on board beats logic.
But we can all guess that getting more sponsorship deals, and thus ensuring that the players are well-taken care, goes against the religion of Kenyan football bodies of worshipping poverty.
Then there is the minor issue of accountability. When officials go their different ways to beg so as to run the club and pay players, they do not have to account for it because their benefactors do not demand it. Also, none of the official beggars and the benefactors know how much the other one received or gave.
On the contrary, corporate firms will raise a ruckus just like the previous sponsor did and considered paying the players directly since the public display of players' perennial woes was not good for their brand.
This begging culture works in the officials' favour because they end up fattening their wallets, and also it reduces running costs of the office because having more sponsors means employing staff who know much more than cooking books and can understand the dynamics of modern sports management and marketing. Nope. To them, that is a waste of time and they just need randomly picked people to run the affairs of the club and ruin the lives of footballers.
As it is now, the new deals that Gor and AFC have signed still offer them no respite but club officials are happy because they all know where the money will end up in.
That's why Kenyan footballers must be enlightened and encouraged to ask for their rightful share in all these deals. In the meantime, they should avoid the Kenyan Poverty League until such a time when officials of Kenya's football bodies start using common sense, something that even rules of football encourage.
Clay Muganda is an Editor at The Standard