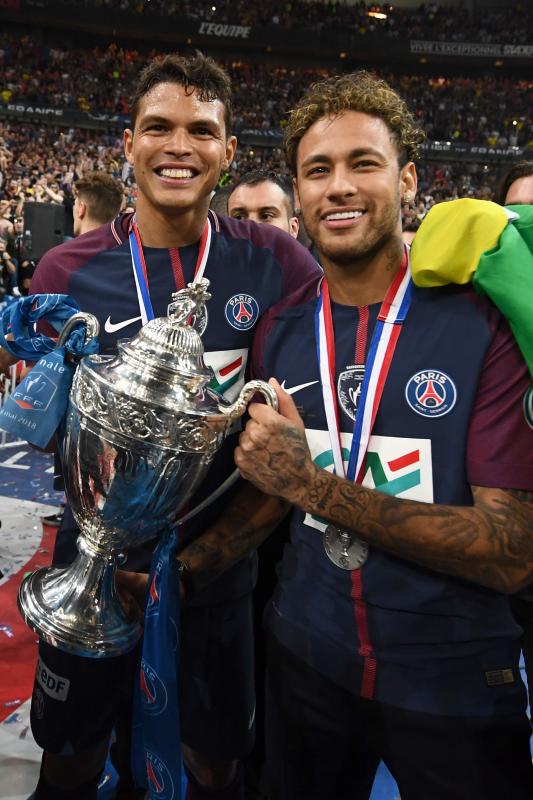 After Neymar on Saturday, the Brazilian captain of Paris SG Thiago Silva returned to France Monday morning, a week before the recovery with the club he will leave this summer, he said on social networks.
"We are coming home, thank you Brazil," the defender wrote on his Instagram account in a message with a photo of his family at Sao Paulo airport.
SEE ALSO: Cavani and Silva to leave Paris St Germain after Champions League campaign
"I arrived," later commented the player's wife, Isabelle, on the same network.
Thiago Silva is the third Parisian to make the return trip from Brazil, after Marquinhos and Neymar. He should be followed in the coming days by Edinson Cavani (Uruguay) and Keylor Navas (Costa Rica), according to several media.
SEE ALSO: PSG's Tuchel optimistic Mbappe can feature against Atalanta
But the future of the experienced international (35 years) is written outside the capital. The sports director of PSG Leonardo confirmed, in the Sunday Journal, his departure at the end of the season, after eight years at the club.
It remains to be seen if he will leave on June 30, at the end of his contract, or if he will find an agreement to extend this summer, in order to end the season, in particular the Champions League whose resumption is hoped for in August .
SEE ALSO: Time to take cover as world champ Ogier revs up for Safari Rally
PSG plans to resume training on June 22, in anticipation of a very busy summer which will see it fight both in C1, where it qualified for the quarters, and in Ligue 1, the start of which next season is expected during the weekend of August 22.
The finals of the Coupe de France and the Coupe de la Ligue, suspended due to the coronavirus pandemic, could also be rescheduled at that time for PSG, opposite Saint-Etienne and Lyon respectively.