Fans to take their noise home as soccer starts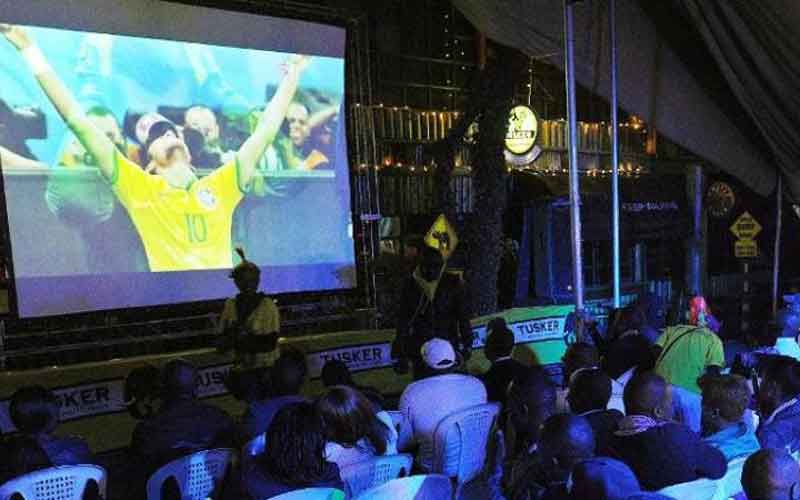 The European Premier League (EPL) is not just about masculine men making tactical tackles while chasing a piece of inflated leather into a guarded net.
It is about entertainment, socialising so to say, as it is followed by millions of local fans who have been waiting for the fun to kick off again.
The EPL is about drinking. Music and dance too. It is an addiction.
Football, one of the most popular sports worldwide, is a recreational social engagement in many societies across the globe and starting this week, men should be in bars sipping their favourite drinks over the beautiful game.
The age old rivalry between Arsenal and Manchester United and which player has the coolest moves should be dominating the social scene – physically and virtually. A deejay should have a set ready with popular tunes to light up the atmosphere as the social spots get filled to capacity. What a relief for men who should be escaping the boredom they have been experiencing in their living room since Covid-19 struck? What a reunion this so called 'sexy' game is inside the bar pitch?
However, as the sweet storm kicks off on Wednesday after three months of EPL dry spell, there will be little action in entertainment spots.
Health Cabinet Secretary Mutahi Kagwe has only allowed restaurants to reopen between 5am and 4pm, with a rider that the patrons must observe social-distancing guidelines and other Covid-19 measures.
As Manchester City versus Arsenal and Aston Villa versus Sheffield United ignite things with the Wednesday 'catch-up' in a league season that has 92 matches still to go, football lovers will be denied the usual social pleasure - they will follow most of the matches from their sofas. Restaurants, bars and other entertainment places that reap handsomely from fans during such screenings are the other big losers. Pun intended, married women and broadcast rights holders are the winners.
It is no wonder that the Pubs, Entertainment and Restaurants Association of Kenya (PERAK) is pleading with the Government to reconsider the closure of entertainment spots, which have recorded huge loses in the last three months.
Perak Patron Patrick Muya has said the recent extension of the Government enforced curfew to 9pm should be accompanied by an extension of restaurant opening hours to at least 8pm.
"We request to be allowed to operate up to at most 8pm as our operators have their own arrangements for staff accommodation and transport, which means that curfew hours will be observed," says Muya.
Perak is asking the Government to take appropriate action against offenders "rather than take drastic measures that would indiscriminately impact a whole sector of the economy with dire economic straits".
It says shutting down the sector would place the lives of its 1.8 million workers on the line as it would deprive them of the opportunity to earn a livelihood, which has been further undermined by the slowdown in economic activity.
"As the country has worked to contain the spread of Covid-19, the sector has suffered the brunt of the necessary measures to limit the spread of the deadly virus. We have had to close and send our employees home, as we all followed directives by the government," says Patrick Mbogo, the chairman of Perak's Nairobi chapter.
"Earlier this week, we wrote to the Ministry of Health asking for stern action on the establishments that fail to adhere to the guidelines. Such establishments are a stain on our business and are likely to not only discourage our patrons from coming back. They are also likely to make the government roll back the measures taken to enable a return to economic activity," Mbogo adds.
The resumption of the football league - with the Covid-19 restrictions still in place – is however a blessing to the games' broadcasting right holders such as MultiChoice Kenya.
According to the company's Corporate Affairs Manager Philip Wahome, many loyal EPL fans are taking advantage of their new rates.
"Sports is part of Dstv's big strengths alongside entertainment channels that are keeping many people occupied as they spend long hours at home during such times," he said.
Besides Dstv, the matches will also be broadcast live across other current rights holders such as Sky Sports, BT Sport and Amazon.
"The EPL can't be the same if we follow the games away from the social places. The fun is all about sharing and getting entertained in social places," says Alfred Simiyu, a Manchester United fan.
"My boys are home with schools closed and I have had to renew my Dstv subscription, which I had not paid for two months. Football is part and parcel of their life and away from streaming services, I have had to ensure the football channels are ready before the league resumes – as I can't sent my boys to the pubs," remarks Matthew Muthiani, a Nairobi resident.