Ex-AFC chairman questions FIFA's Chief Member Association officer over undelivered OB van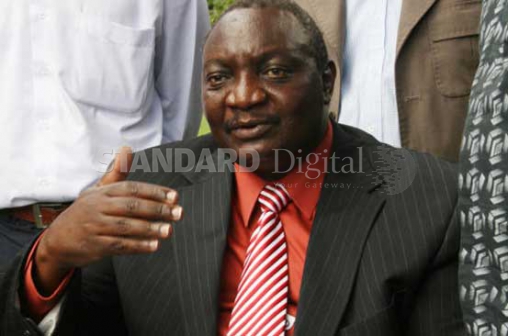 Former AFC Leopards football club chairman Alex Ole Magelo has written to the International Football governing body(FIF) to seek clarification on the current state of football in the country.
This comes a few days after FIFA expressly stated that it does not recognize the Sports Dispute Tribunal (SDT) as an arbiter hence making its decisions in matters regarding football null and void.
Magelo in his letter seen by Game Yetu to FIFA questioned the legality of Federation of Football Kenya's(FKF) current national executive committee (NEC) in office long after their term had expired.
"What is the legal premise of extending the term of for the FKF National Executive Committee considering that FIFA itself wrote to FKF and insisted that they must hold elections within their term which would expire on 10th February 2020 or not later than the end of March 2020?" posed Magelo
The FKF presidential aspirant in his bare it all letter of clarification, probed the backpedaling of the FIFA in asking FKF to act in contempt of SDT.
"At what point did FIFA change its position on the jurisdiction of the SDT on football matters in Kenya, considering that it is on record, vide a letter to FKF that advised them to adhere to the directives of the SDT ruling and even required the federation to furnish FIFA with a record of engagement with stakeholders in the lead up to organising fresh elections after the SDT had nullified the exercise vide its 3rd December 2019 ruling?", read part of the letter.
Magelo then found fault on FIFA's letter to paint SDT as a body with no jurisdiction whatsoever while the body is recognized by the country's constitution.
"The circular being referred does not relate to the situation of the SDT in Kenya because the circular is a guide to Member Associations where they are going into arbitration through consensus and not where there is a substantive national arbitration tribunal that is governed by the international arbitration principles, civil procedures and operates within the universal tenets of a tribunal as guided by international law and applicable treaties and/or conventions. My understanding is that the SDT is guided as aforementioned and therefore I see no nexus in calling it out for lack of jurisdiction when its establishment is as I have stated," said Magelo.
The former Nairobi county speaker sought to clear the air on Sh 125million involving the purchase of the Outside Broadcasting(OB) vehicle that was paid to the now insolvent WTS media.
Magelo called out FIFA's chief Member Associations Officer Mr Veron Mosengo-Omba to clarify his role and position in the OB van scandal.
"What does the FIFA Chief Member Associations Officer – Mr Veron MosengoOmba – know about the process of acquiring this van," questioned Magelo.
Questions over undelivered OB van and how it all started
In 2016, immediately Nick Mwendwa was elected president, FKF embarked on an ambitious project to buy an OB van for production of football content.
The Kenyan FA put together a proposal for an 8-camera OB van with technical specifications to match those demanded by the Confederation of African Football for it to be able to broadcast continental matches and save local clubs the cost of production in CAF assignments.
FKF had argued that the acquisition of the broadcast facility would save it millions of shillings to produce matches after the South African broadcaster quit the Kenyan Premier League.
Football world governing body FIFA approved a mouth-watering Sh135million kitty for the project.
Initially, FKF were offered a SuperSport MPU van as purportedly owned by an England based company, WTS Broadcast. FKF did a test run with the OB van by producing matches in Uganda, Tanzania, and a Caf Confederation match between Gor Mahia and Rayon Sport of Rwanda at Kasarani on August 19, 2018.
Things, however, took a strange twist after FKF remitted Sh125million to WTS Media Group Limited account for the van, only for SuperSport (or owner) to refuse to release it.
Martha Thompson and William Matthew Humphries Tait of BDO LLP have since been appointed the Joint Administrators of the Company.
Unlike other creditors of the beleaguered company, FKF is listed as an unsecured creditor meaning it will take a court process in England for the Kenyans to recover the money.
By FKF's account, they were offered another van. However, the van was a Left-Hand Drive. Nonetheless, they were promised it will be configured to a Right-Hand Drive by the time it was to be shipped to Kenya.
WTS Media Group Limited was put under administration on April 11, 2019, leaving the cash-strapped FKF stuck between a rock and hard place on how it will recover the money or get the precious OB van.
Despite splashing Sh125million as a down payment, the local broker and WTS Broadcast are yet to deliver the van.