How Kenyan football has turned its attention to helping fight coronavirus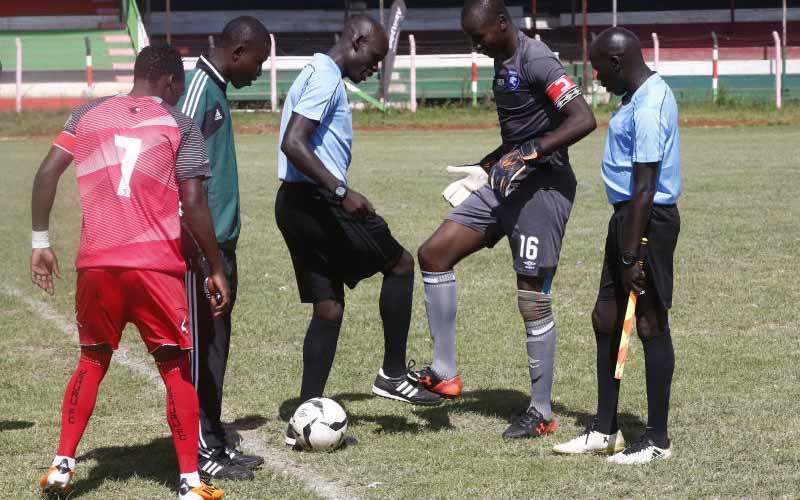 The Coronavirus (COVID-19) has not only brought the world to a standstill, causing panic but has also robbed football enthusiasts around the globe the joy they once blossomed in.
Within a month of its rapid spread, the coronavirus has seen football federations worldwide halt their leagues, in a gradual process that began with clubs staging matches behind closed doors, only to realise footballers too were exposed to the risk of contracting the virus.
Football stopped, and everyone's attention turned to helping combat and prevent the spread of Covid-19.
World football's governing body FIFA echoed its support to the World Health Organisation (WHO) by initiating an awareness campaign that would help tackle the virus.
"We all know the situation with the coronavirus is a serious one, and we need to put health first. These are the five key tactics to tackle the coronavirus, and I urge you to follow with discipline at all times, these five key tactics," said FIFA Chief of Global Football Development Arsène Wenger, who will be joined by five coaches united behind the five-step game plan to defeat the virus.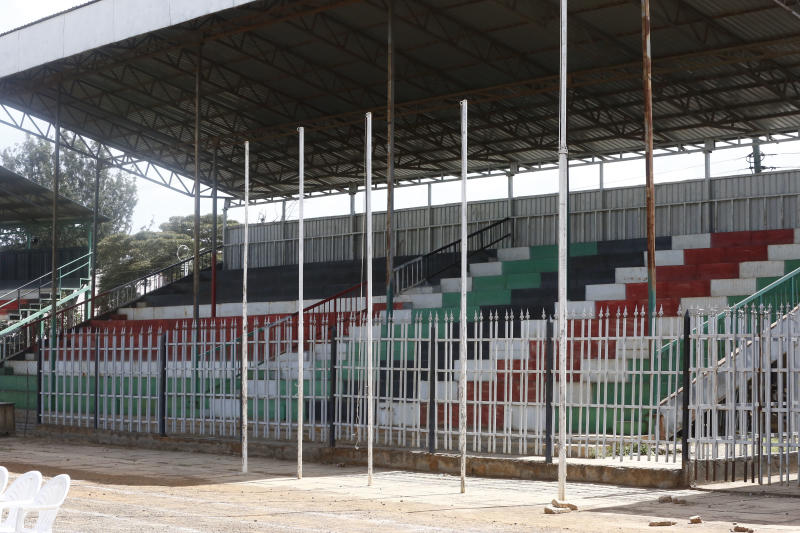 What is Kenya doing to help combat Coronavirus?
Kenya has not been spared by the Covid-19. As of 9:00 am on Thursday, March 19, 2020, SEVEN people had been confirmed to have contracted the virus.
Kenyan football had to come to a halt. On Friday, March 13, Football Kenya Federation resolved to suspend all sporting activities following the confirmation of the first COVID-19 case in the country.
In a statement to newsrooms, FKF said: "Following the confirmation of the first Corona Virus (Covid-19) in Kenya, Football Kenya Federation has suspended FKF grassroots football competitions and women leagues including the Kenya Women Premier League, Women Division One League".
The matches that were scheduled for that weekend had to be played behind closed doors, with footballers asked to observe Covid-19 guidelines - as a precautionary measure, there were no pre and post-match handshakes.
During the FKF Betway Cup at Afraha Stadium in Nakuru on March 15, Ulinzi Stars and Migori Youth players were taken through a sanitisation process before the match started.
Our team medic, John Imboywa earlier today played his part in ensuring we keep good hygiene in the wake of the Corona Virus spread. He was there in time with the hand sanitizer ahead of our clash against Migori Youth. He cares...#GBUS#WeSoldierOn pic.twitter.com/ywiXEEqr90 — Ulinzi Stars FC (@UlinziStarsFC) March 15, 2020
Following the government's directive to stop sporting activities, FKF postponed three rounds of matches to the first week of April following consultations with the Ministry of Health. April 4th has been set as the tentative date when league action is expected to resume.
The country also withdrew the junior team set to participate in the Mediterranean International Cup tournament in Spain following the rising number of cases in the country.
The State has also banned the use of the country's two biggest stadia - Kasarani and Nyayo, confirming the two facilities will not be available for use for the next 30 days.
"In compliance with the directives issued by President Uhuru Kenyatta on Covid-19, and follow up guidance by the Sports Cabinet Secretary Amina Mohamed, Sports Kenya hereby notifies our clients and the general public all our facilities at both Kasarani and Nyayo Stadium will remain closed for the next 30 days from the day of this notice," read a letter from the Sports Kenya Director General Pius Metto.
Kenyan football clubs take action on Covid-19
Football clubs in Kenya's top tier league have also taken the initiative to either suspend training sessions or share safety tips to help curb the spread of Covid-19.
Nairobi-based club Kariobangi Sharks have suspended training sessions and competitive activities for the senior, Under-20, Under-17, Under-15, under-13 and Under-10 teams. The club has also asked its employees to restrict their movements strictly for working reasons.
????| Official Club statement on the Corona COVID-19 virus.#PamojaTunaweza pic.twitter.com/JdjWf79w0z — Kariobangi Sharks FC (@k_sharksfc) March 16, 2020
AFC Leopards have told fans to protect themselves from Covid-19, sharing tips on hygiene on their social media to keep fans updated with the safest methods of sanitization.
Be safe

???? We still need you ????#COVID19KE #OursForever pic.twitter.com/bEA3vB9dMF — AFC Leopards SC (@AFCLeopards) March 18, 2020
"We urge our fans, sports family and the entire humanity to follow guidelines as provided by WHO including frequent hand washing," said the club in a Facebook post.
Mathare United have resorted to suspending all sessions in their camp.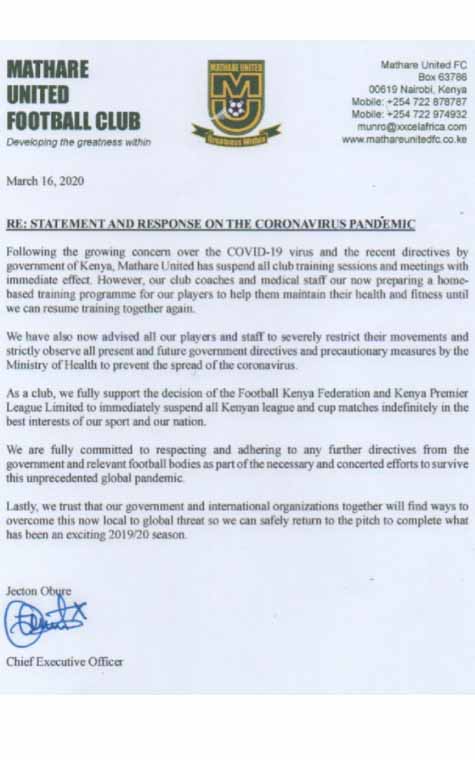 "The club has as well gone ahead to suspend all training sessions and meetings with immediate effect. We urge everyone to exercise caution during this trying time. Wash your hands regularly and follow all GoK directives on the situation including avoiding large gatherings," said the Slum Boys in a statement.