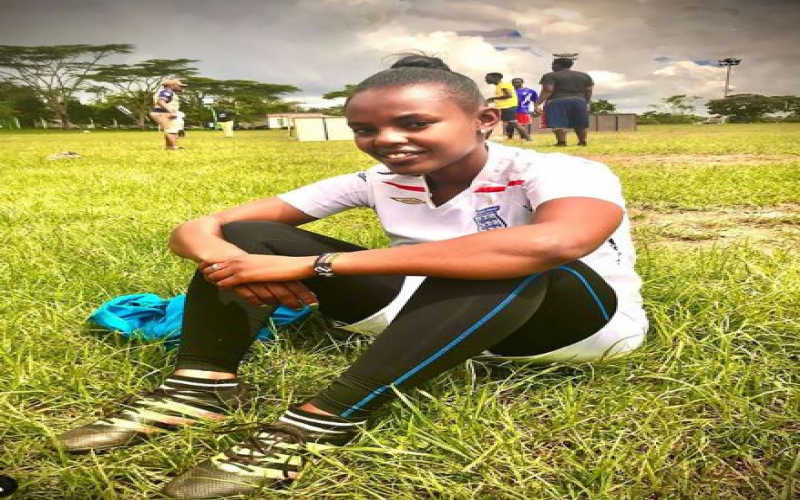 "I am just at home, staying indoors with nothing much to do, the suspension of the Kenya Women's Premier League is taking a toll on us…"
These are the words of Makolanders's FC's Mary Wanjiku as the dreadful coronavirus continues to wreak havoc across the globe.
Mary's sentiments are shared by many sportspeople across the country, who have been forced to temporarily hang their 'boots'.
Last week Football Federation of Kenya(FKF) suspended action across the country as a measure to curb the spread of the coronavirus.
"As a precautionary measure, there will be no pre- and post-match handshakes in the said fixtures and fans will not be allowed in and around the stadium," read part of FKF statement signed by CEO Barry Otieno.
"Further, FKF advises all clubs, both at the national and grass-root level to cancel and/or suspend non-essential activities that include but are not limited to open training sessions, unplanned fan engagements and the unnecessary team travels."
The suspension of the league came a day after FKF had written to Confederation of African Football (CAF) to request the postponement of Africa Cup of Nations qualifiers pitting Kenya vs Comoros.
The postponement request was granted after CAF issued a statement to postpone all qualifier matches due to the virus.
"CAF has decided to postpone the Total Africa Cup of Nations 2021 Qualifiers, scheduled from 25 to 31 March 2020," read part of CAF's statement.
But it's not only footballers that are feeling the impact of the suspension. Kenyan athletes have also decried the cancellation or postponement of running events.
"We have suffered as athletes because we have no other sources of income. Race organisers are cancelling races, it is tough for me to train alone since a majority of athletes have left our training camp," said Lawrence Cherono, the Boston 2019 Marathon winner.
Cherono's sentiments are justified having in mind that late February to early May is the 'harvesting' period for athletes competing in half and full marathons.
KCB's rugby player Martin Owila told Game Yetu that the suspension of the games has forced them to sit at home with no training whatsoever.
"I am just indoors; we are not training because there are no matches to be played. As a club, we are waiting for a way forward from the club officials," the high flying flanker told Game Yetu.
Kenya Rugby Union last week postponed the 2019/2020 season, Kenya Cup Championship, nationwide leagues and the Eric Shirley Shield.
"In light of ongoing developments resulting from the announcement of an active COVID 19 case in the country, and the directive from the Health Ministry that, among other things, bans public gatherings, the Kenya Rugby Union is announcing the suspension of the 2019-20 season," KRU said in a statement.
The unavailability of competitions means that the players will have to survive the coming days without playing allowances, according to Wanjiru.
"If there are no matches, then we don't get anything for allowances, we have to bear with the prevailing circumstances and hope everything will get back to normal", Wanjiru said.
A few days ago, Cabinet Secretary Amina Mohammed issued a new directive that all public sporting facilities will be closed for use for the next 30 days.
She urged all Sportspersons, including coaches, who have travelled outside the country in the past 14 days, to self-quarantine for 14 days.
World Athletics Continental Tour, 2020 Tokyo Olympics and Paralympics, World Athletics Under 20 and World Rally Championship Safari Rally Kenya, the organising committee were informed to set up virtual meeting tools as they prepare for these events.
Her latest directive signalled a total lockdown of all sporting activities in the countries, as the government fights to control the spread of Covid-19 virus.
For Wanjiku, Cherono and Owila, their prayer is that the Covid-19 is contained soon enough.