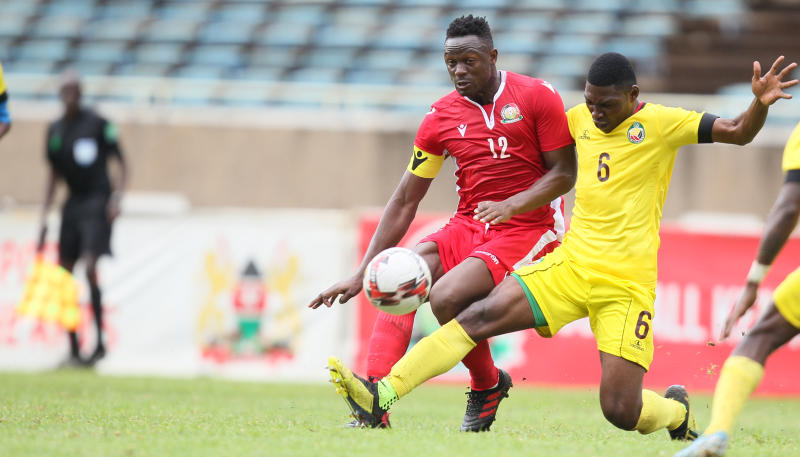 Kenya is staring at a possible suspension and sanctions from the world governing football body FIFA.
The suspension could be imposed after a third party recently challenged the composition of the Football Kenya Federation Election Board and the Electoral Code for the upcoming elections at the High Court in Nairobi.
SEE ALSO: FKF crisis: Four FKF presidential aspirants unite in call for free, fair and transparent elections
A suspension would mean that all Kenyan teams will not participate in FIFA and CAF sanctioned tournaments including Africa Cup of Nations and World Cup qualifiers.
Fifa statutes stipulates that recourse to ordinary courts of law is prohibited unless specifically mentioned in its regulations.
SEE ALSO: Sports Disputes Tribunal has jurisdiction over FKF, High Court rules
George Mwaura filed a case at the High Court seeking orders to stop the forthcoming elections slated for December 7 until the two issues-Election Board's composition and Electoral Code-that were adopted during the FKF's Annual General Meeting (AGM) are addressed.
The petitioner, who on Wednesday obtained a hearing date at the High Court for November 20, has questioned the legitimacy of the Election Board chairman Edwin Wamukoya and member Elynah Shiveka. Wamukoya is a member of FKF's Club Licensing Committee, while Shiveka sits on the Sports Disputes Tribunal (SDT).
SEE ALSO: Venue selection for 2026 World Cup delayed by COVID-19 - FIFA
This came barely a day after the John Ohaga-led SDT had set November 5 as the hearing date of similar petition filed by Jared Ondieki, an FKF sub-branch official from Nyamira County.
The cases have attracted the attention of the Zurich-based body after they received correspondence from FKF Acting Secretary General Barry Otieno on October 19.
"We informed Fifa on the recent surge of court cases pitting the federation against third party individuals, acting in complete disregard of both the FKF and Fifa statutes. This was done as part of our regular briefings to the world football governing body on the ongoing FKF electioneering process," said Otieno.
"Fifa has since responded to our correspondence and reminded us of our obligation as their member and the need to conform to both the Fifa and FKF statutes. "
And in a letter dated October 23, and signed by Fifa Acting Chief Member Associations Officer, Véron Mosengo-Omba, it warns of dire consequences including a possible suspension if their statutes are violated. That is if the High Court renders a decision that goes against FKF.
"We refer to your letter dated 19 October 2019 by means of which you informed our services of alleged third party interference in the affairs of the Football Kenya Federation (FKF) and more specifically its ongoing electoral process," read part of the letter.
"In this context, should the High Court of Kenya render a decision that goes against the aforementioned principle, the matter will be brought to the attention of the relevant Fifa bodies for consideration of suitable measures and possible sanctions in line with the Fifa Statutes.
"In this respect, we consider it of utmost importance to refer you to article 69 of the FKF Statutes according to which "Disputes within the (FKF) or affecting leagues, members of leagues, clubs, members of clubs, players, officials and other (FKF) officials shall not be submitted to ordinary courts unless the Fifa regulations, (the FKF statutes) or binding legal provisions specifically provide for or stipulate recourse to ordinary courts."
The statement added: "The aforementioned article is in line with one of Fifa's core principles, that is, the prohibition of recourse to ordinary courts of law, unless specifically foreseen by FIFA regulations."