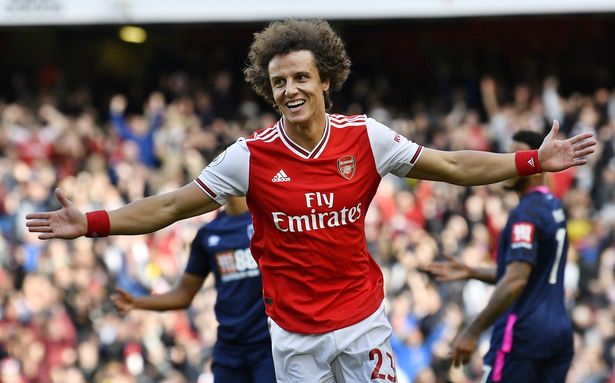 Arsenal and Brazilian defender David Luiz visited Rwanda, as part of an ongoing relationship between Arsenal FC and the country.
SEE ALSO: Arsenal 1-1 Leicester: Vardy's late strike earns Leicester point at Arsenal
On his visit to Rwanda, the 32-year-old met young Rwandan football players as well as visiting some tourist sites including the Kigali Genocide Memorial.
Luiz, who left Chelsea for Arsenal this summer on an £8 million deal, was impressed by young talent when he attended the national league football match at Kigali Regional Stadium.
SEE ALSO: Arteta confirms Ceballos transfer decision amid Arsenal evolution
According to Arsenal FC website, Luiz met players, young Rwandans from the Irebero Goalkeeper Training Center and enthusiast fans.
Luiz appreciated the young talent in football by giving away and signing some Arsenal jerseys.
SEE ALSO: Chelsea's Kante and Kovacic sidelined for Palace game says Lampard
"Since the first minute I arrived and came off the plane, you can see the people love football, the people love Arsenal and it's great to have these kinds of moments with our fans," Luiz told Goal
During the two-day visit, the center back also met Rwandan president H.E Paul Kagame at Village Urugwiro as well us taking part in tree planting activities.
He also paid homage to the victims of the 1994 Genocide against the Tutsi before visiting the Volcanoes National Park.
The Brazilian couldn't hide his joy as he wrote on his official Twitter account;
"What a great day in my life, just want to say thank you for all! Get the opportunity to learn @Singita about the conservation systems and I really enjoyed it!!"
According to the Arsenal official website, Luiz travelled to Rwanda with his long-term fiancé Bruna Da Conceicao Loureiro and mother Regina Celia Moreira Marinho
"I'm grateful and thankful for football because football gives you the opportunity to put a smile around the world," he said.
Luiz concluded his two-day trip at the Kigali Convention Centre, where he answered questions on his experience in Rwanda, his life and football career.
Last year, Rwanda signed a £30m three-year sponsorship and tourism promotion deal with Arsenal aiming to attract more tourists to the country.
According to Visit Rwanda, Arsenal players from the men's and female teams will visit Rwanda and the club coaches will host coaching camps to support the development of the game for boys and girls in the country.
The "Visit Rwanda" logo is also emblazoned on the left sleeve on all first team, Under-23 and Arsenal Women's shirts.