'I am here to win titles' – Football fans mock Luiz's declaration after joining Arsenal
Football fans have turned to roast new Arsenal signing David Luiz on social media after his remarks upon arrival at the Emirates.
The former Paris Saint Germain, Chelsea and Benfica defender made a controversial move across London on deadline day to sign for the Gunners in a reported £7m deal.
The Brazilian defender put pen to paper in a two-year deal with the North Londoners after he expressed his desire to move.
In his unveiling video, the Brazilian expressed his delight at becoming a Gunner and said he joined them to 'win big games and big titles'.
"Hello, Arsenal fans!
"First of all, I want to say thank you for the great messages and the welcome.
"I am here to give everything and try to make this club arrive where it deserves to arrive-winning big games and big titles," he said.
Immediately after Arsenal released the video, eagle-eyed fans picked it up and made a mockery of the defender, creating a hilarious social media trend on Thursday as seen by GameYetu.
Which big titles? — Ben (@ben10_Ke) August 9, 2019
pic.twitter.com/i0L2Q7ao52 — Professional Bets ???? (@pb_tipz) August 9, 2019
How long will it take @Arsenal to realise @DavidLuiz_4 has given his best playing years to @chelseafc He left cos we can't guarantee him 90 minutes. Scrap club buying retiree player. Chelsea forever! — e-ntreprenuer (@Obafemi19007698) August 9, 2019
"greatest club" but plays in the Europa League every year? Good joke man ???? — Miguel (@ftblmiguel) August 9, 2019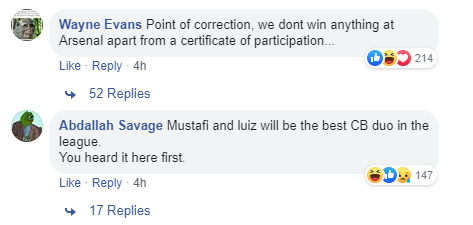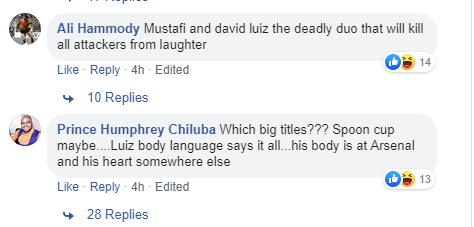 Luiz only penned a new two-year contract at Stamford Bridge earlier this year, having impressed under Maurizio Sarri last term.
But after being an unused substitute in last weekend's final pre-season friendly against Borussia Monchengladbach, he feared being only a bit-part player under new boss Frank Lampard.
Kurt Zouma and Andreas Christensen are expected to start the campaign as Chelsea's first-choice pairing, with Germany international Antonio Rudiger soon set to return from injury also, leaving 32-year-old Luiz as the fourth choice. ?