Fans dispute FIFA Player of the Year Shortlist as Liverpool's Alisson and City's Bernado miss out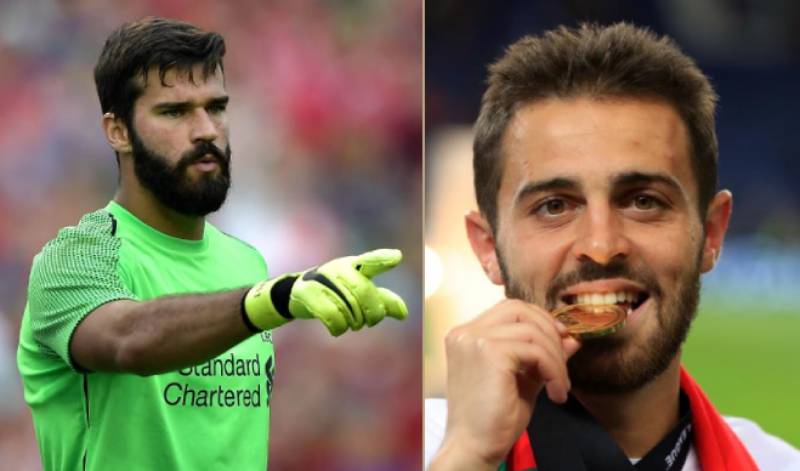 Football fans seem less than satisfied after FIFA released the shortlist for the 'Best award' on Wednesday, July 31.
This is after their expectations were crushed by the omission of 'obvious' names.
The most notable absentees were Liverpool and Brazil custodian Alisson Becker and Manchester City midfielder Bernardo Silva.
Allison was highly expected to make the shortlist due to his achievements last season and during the summer.
The Brazilian's magic hands guided Liverpool to their sixth Champions League triumph and second-best in the Premier League to champions Manchester City.
He was also solid for Brazil at the Copa America leading them to the title despite losing their star man Neymar to injury.
On the other hand, Portugal and Manchester City's Bernardo Silva also missed out despite having a good season both at club level and internationally.
The youngster was part of the ruthless Cityzens that retained the Premier League crown after yet another brilliant season under the evergreen Pep Guardiola.
He also scooped the UEFA Nations League trophy with Portugal.
Emotions ran high Immediately after FIFA tweeted the names on Wednesday at 5:01 EAT as fans felt the shortlist wasn't fair on the pair who just had good seasons.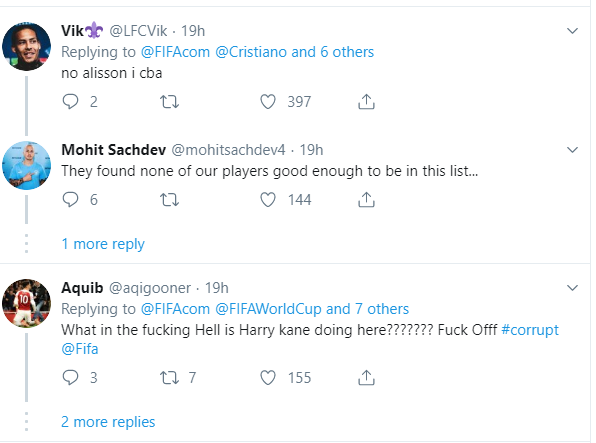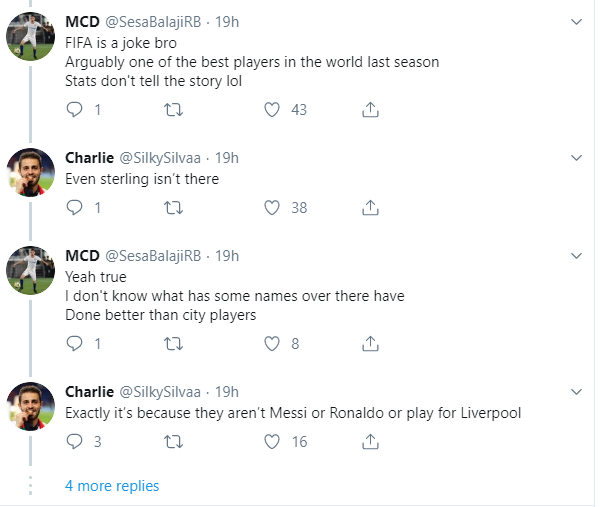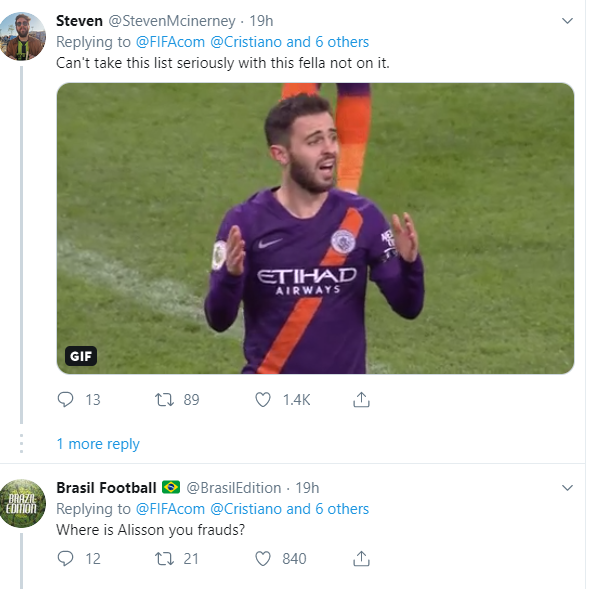 Another detail that gave fans the reason for the dispute was the presence of former Ajax youngsters Matthijs de Ligt and Frenkie de Jong.
The pair recently moved to Juventus and Barcelona respectively after doing well at Ajax but weren't qualified to make the shortlist according to the fans who were also not happy with the presence of Tottenham's Harry Kane on the List.
Virgil van Dijk, Mohamed Salah and Sadio Mane made the cut after leading Liverpool to the Champions League, with Jurgen Klopp up for the Coach of the Year prize.
Cristiano Ronaldo and Lionel Messi are once again among the contenders, having been pipped by Luka Modric last year.
Kylian Mbappe and Eden Hazard also made the shortlist.
The winner will be confirmed in Milan on September 23. ?