Visitors Eldoret Youth FC leave it late to put one past Shaban FC
FOOTBALL By Gameyetu | September 5th 2018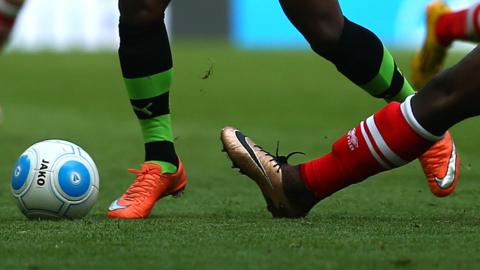 Eldoret Youth FC scored a last minute gasp goal against hosts, Shabana, to maintain their unbeaten run in the FKF Division one league; zone B on Saturday afternoon.
Playing at the newly refurnished Gusii stadium and buoyed by many fans, including the Kisii governor, it is Shabana who created the chunk of scoring opportunities; but which they never utilized well.
And, against the run of play, Eldoret's lethal forward Hosea Koech(Jersey no.9) scored the lone goal of the match in the 92nd minute to ensure his side collected the maximum, three, points.
Michael Waswa of Eldoret Youth FC burst into the Shabana dangerous area and unleashed a ferocious shot, the Shabana goal keeper missed the shot which came off the upright. The rooted Shaban defenders could not clear the lines, and this allowed Eldoret FC's striker, Hosea Kipchirchir, to burry the ball, easily, into the empty net for the winner.
Shabana would rue missed opportunities courtesy of Ongeri Dennis and Bob Mugalia's lacklustre performances in front of goal.
The home team showed much improvement and urgency in the second half after Ontita Justin and Luvah Billington came in for Oscar Oketch and Hadi Hamisi, respectively. But they had nothing to show for their huge ball possession and alluring short passes.
Eldoret FC now sit at the summit with 52 points, with an impressive run; registering 16 wins and 3 draws.
Shabana FC lie second with 46 points, having recorded two losses, fourteen wins and four draws.
Shabana FC's tactician, Andrew Kanuli, decried the missed, clear, scoring opportunities; that could have seen a different match outcome. He was bitter that despite mustering beatiful displays and having bulk of the possession, they went home empty handed.
Eldoret coach, Peter Kihamba, congratulated his boys for containing Shabana, more so, in the second half.
"I congratulate my players for standing tall and keeping Shabana strikers on check throughout the match". Said an elated Coach Kihamba, after the match.
Winners from the two third tie league Zones, A and B, will get automatic promotion to the National Super League. While, runners-up face each other in a play-off match.