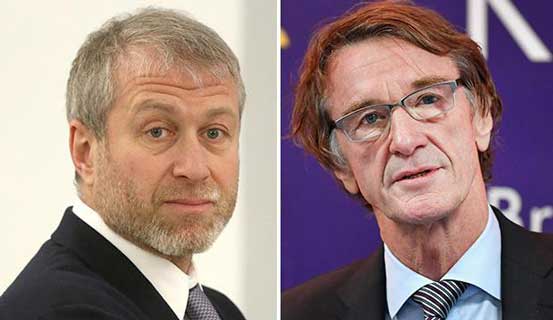 Britain's richest man has had a bid to buy Chelsea football club turned down by Roman Abramovich, according to British media reports.
The Daily Mail reported that Jim Ratcliffe, the chairman and chief executive of multinational petrochemicals group Ineos, expressed an interest in the Premier League club which the Russian has owned for 15 years.
Chelsea's future has become uncertain since Abramovich ran into UK visa problems, which caused him to miss Chelsea's FA Cup final victory over Manchester United last month.
The delay in renewing his UK tier one investment visa, which has been reported to be linked with worsening UK-Russian relations, led to him applying for Israeli citizenship, which was granted last month.
Israeli passport holders can enter Britain without a visa for short stays, although they require visas to work there.
Speculation over his commitment to Chelsea intensified when the club announced it would not go ahead with a one billion pound ($1.34 billion) redevelopment of Stamford Bridge, a project intended to place it on a firmer financial footing.
Despite the uncertainty, the Daily Mail report said Abramovich remains committed to Chelsea, who are valued at around one billion pounds, and had knocked back Ratcliffe's approach, which it said was one of several.
Ratcliffe, 65, is reported to be a Chelsea season ticket holder and last month topped the Sunday Times rich list which valued his personal fortune at 21.05 billion pounds, compared with Abramovich's 9.3 billion pounds.
Last year Ineos purchased Swiss club FC Lausanne-Sport, which is based near to its offices in Rolle in the Canton of Vaud.
Ratcliffe, who grew up in Manchester, has not previously linked with buying into English football.
A spokesman for Ineos said they did not respond to market rumour or speculation and Chelsea, who refused to comment publicly on the story to the Mail, did not respond to phone calls from Reuters.