CSKA hoping for Roma miracle against Arsenal tonight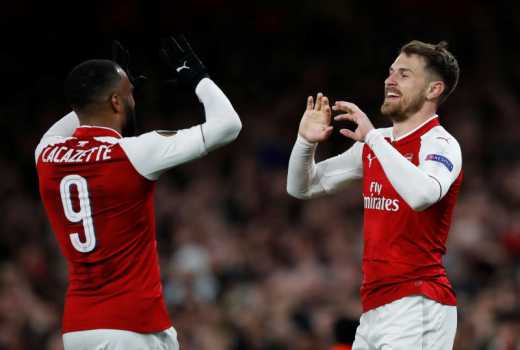 CSKA Moscow coach Viktor Goncharenko is hopeful that Arsenal's attacking philosophy could leave the Premier League side on the receiving end of a Europa League shock tonight.
The Gunners travel to Russia for the second leg of their quarter-final boasting a 4-1 lead from the opening leg at the Emirates Stadium last week.
While progression to the final four for Arsene Wenger's side appears a formality, Barcelona were eliminated from the Champions League at Roma on Tuesday while trying to defend the same advantage.
Experienced CSKA defender Aleksei Berezutski admits the Russians need their own 'mircale' to turn things around against Arsenal.
"Roma played a magnificent match and made a miracle," he said. "We don't have a lot of chances to repeat the same miracle, but sometimes miracles happen in football. Of course Arsenal are extremely motivated because winning the Europa League is the way into the Champions League, so this is their motivation."
"Arsenal have a philosophy and have stuck to it for a long time, for many years, regardless of their record," he said.
"If they are losing or winning they still play to make supporters and fans happy. When you act like this, trying to cheer up the supporters, you can have some problems in the defence.
"Tomorrow's (today) strategy for Arsenal could be done in different ways, but they will be focusing on their attack of course.
"If we play without believing in yourself and without faith it is better not to play at all. We need to go to the pitch believing in ourselves and that we can make it into the next round. We need to change some things."