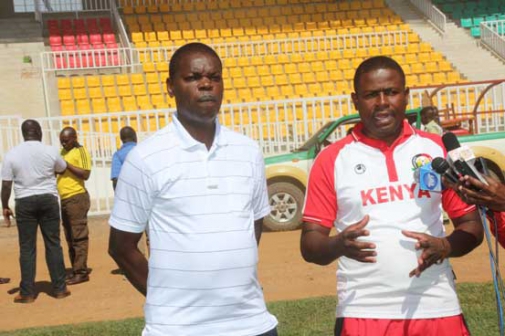 Kakamega ready to host Cecafa Challenge Cup
Final preparations for this year's Cecafa tournament have been completed ahead of the official opening today.
Speaking at Bukhungu Stadium, Tony Kweya FKF executive member representing Western said he was satisfied with the preparations so far. Ethiopia, Burundi and Harambee Stars of Kenya are in Kakamega. Rwanda and South Sudan were expected late yesterday.
"The opening game will be between Kenya and Rwanda at 2pm today. We are delighted to see Harambee Stars here as well as the rest of the teams," Kweya said. Kweya said four pitches have been identified for training for the four teams which will be based at Kakamega. Mumias Sports Complex has also been earmarked as alternative stadium.
SEE ALSO: Sterling strikes, Luiz sent off as Man City outclass Arsenal
He said Group B teams, Ethiopia, Burundi, South Sudan and Uganda will be training on the fields at Kakamega High School, Mukumu Boys and St Peter's Seminary Mukumu.
"It is a great honour and privilege for Bukhungu to host Harambee Stars. We expect a lot of people to turn out to watch the game," he said.
SEE ALSO: Kenyan stars upbeat despite loss to Norwegian squad in virtual race
Kweya announced that the VIP tickets will cost Sh500 while the terraces tickets will go for Sh100.
Robert Sumbi, Kakamega County Executive in charge of sports said security has been beefed up ahead of the tournament. He said everything is ready for the two-week event.
"We are grateful to host the tournament. This region is known for having many sports fans and we expect the stadium to be full," Sumbi said.
He said the county government is in talks with FKF and Cecafa to have a game on December 12th when the stadium will be officially launched.
He said during the December 12 game, the county government will pay entrance fees for all fans. "If they accept to have a game on that day then we will pay for all fans to watch the game," he said.
Meanwhile, hoteliers in Kakamega have started reaping high returns from the tournament.
"Hotels in our town have enough beds. We are already accommodating teams that have arrived. We expect to reap maximum profit during this period," said William Owuya, chairman of hoteliers in the county". [Alex Wakhisi]