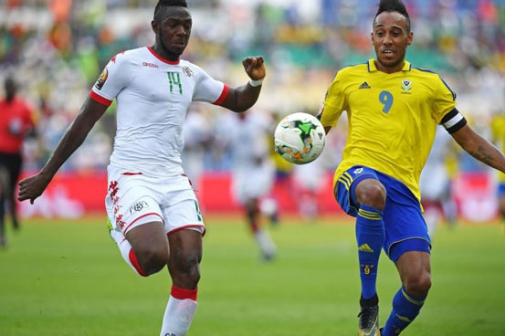 Celebrations began at dawn.
For more than 10 hours before the Gabon versus Burkina Faso match, fireworks hit the sky, illuminating the otherwise dark heavens with awesome lights.
All around Libreville, loud explosions constantly rent the air as locals; men, women and children, screamed their lungs out.
Gabonese national colours - green, yellow and blue - stood out from many joints, with flags draped on hotel and house windows. Beeping car horns were annoyingly everywhere. The locals were getting ready for the big day. Delightful day. Their national team, The Panthers, was getting ready for their second Group A match against Burkina Faso.
They could not wait. Being hosts of this year's Africa Cup of Nations and having drawn 1-1 against Guinea Bissau in their opening match, they really needed to win their second. They did not.
No one could have presumed tears and fear would overcome the locals at halftime. No one saw the possibility of the same fans, who could not sleep a wink, leave a dejected lot after the final whistle. No one saw this coming.
For sure, who could have thought Gabonese, most dressed in national colours, would start trickling out of Stade de l'Amitie, venue for Wednesday night's match, minutes before final whistle? But it surely came to pass. It happened. Cutely painted faces turned dull as the colours on their faces began to drip. The heat was too much.
The hosts, hitherto considered one of the tournament's favourites, were clearly left exposed by a diligent Burkinabe side. Gabon were turned and twisted and made to look more of a university squad. Things were thick. The final score; Gabon 1, Burkina Faso 1. This was not the result all locals were wishing for; no.
"We were hoping to win this match, but Burkina Faso is also a very strong team. We kept on missing chances and also lost about three players to injury. This affected our style of play and plan," said Gabon coach, Jose Antonio Camacho.
"We say sorry to our fans for failing to win. We understand how they feel at the moment, but there is still hope. We still have a match (against Cameroon) and we hope for a better result."
But for the faithful, who braved the morning drizzle, it will take more than kind words from Camacho to calm their nerves. They hardly slept and certainly, did not dream. But here they were, leaving with a darker nightmare.
"This is quite annoying. What kind of football are we playing? We cannot win a match after two rounds?" posed a visibly angry Lionel George, 32, from Owendo, a south western suburb of Libreville.
The Burkinabe were unforgiving, playing with elegance and harmony. True, they did not have much flare, but at least, they conjured up a good show. One of those, a lovely dart and dribble by Bertrand Traore in the dying minutes of the game.
By then, the mood inside the stadium was clearly deflated. Camacho said the Cameroon match would be important, but there was little feeling in his words. He sighed, before leaving the press conference room, dejected man.