It's Adebayor's responsibility to lead Togo in Afcon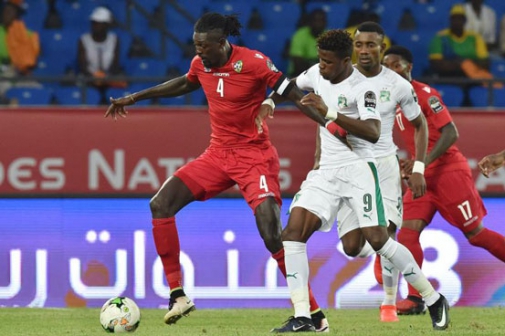 Patience attracts happiness; it brings near that which is far.
Since leaving Crystal Palace last season, Emmanuel Adebayor has been without a club. But that did not show in the 32-year-old Togolese striker during their opening Group C match against Ivory Cost in Oyem, Gabon.
Togo grabbed an incredible barren draw against the tournament holders, an unbelievable result for any neutrals and Togo fans. But that was not all.
Adebayor's legs did not seem to realise he has been club-less since last season. He was in such good condition that his more active opponents would have looked the other way in shame, if not envy.
The lanky striker knows the first commandment in any tournament is; "Thou shall not lose the first game." Being the top man for Togo, Adebayor, him that shone for Arsenal, Tottenham and Manchester City, led from the front, like a true army general.
He had an affectionate authority on the game. He was meant to be their number nine, centre forward, where he was expected to put Manchester United's defender Eric Bailly and company under pressure; but he did more than that.
He was all over the field. He did not want to lay back and watch things get done by others. He wanted to be part of the cast and not audience. And he did that too, until he was substituted in the 88th minute.
Adebayor's superb show has been the push Togo will rely on when they play Morocco tonight at 10pm in Oyem, Gabon.
And the dangerman knows it too well.
"I am glad to be a leader for this wonderful country. The players turn to me for many things and I am glad to be there for them," said Adebayor. "I must prove to all that I am still their great man."
Even his head coach and father of African football, the legend Claude Le Roy, shares in Adebayor's sentiments.
"Adebayor was amazing, unbelievable. He really put a lot of effort. He was very strong and was giving a lot of solutions during our game," said Le Roy after their first match.
"We put in a lot in our training sessions and Adebayor was always there, working tirelessly and the results were obvious."
Meanwhile, Ivory Coast will be desperate for their first Afcon victory when they face Democratic Republic of Congo (DRC) tonight from 7pm at the Stade d'Oyem in the Gabonese city of Oyem.
Real Madrid surprise coach Zidane
Real Madrid coach Zinedine Zidane admitted he was surprised by his side's slow start as they slumped to a second defeat in four days, 2-1 at home to Celta Vigo in the first leg of their Copa del Rey quarter-final on Wednesday.