EGYPT FOILS ATTACK ON COACH:Extremist fans planned to target Ghana coach Grant of Israel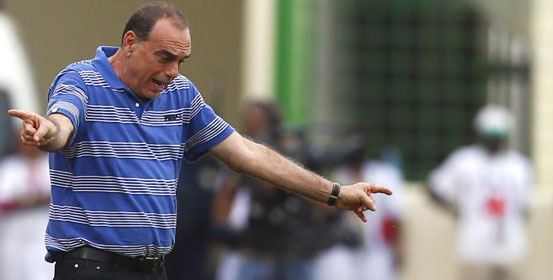 The Egypt Football Association uncovered a plan by extremist local fans to attack Ghana's national soccer team's coach, Israeli Avram Grant, during a November 13 Fifa World Cup qualifier match against Egypt.
Angry fans sent messages to the Egyptian regulatory body threatening to harm the Israeli coach during the match in Alexandria, Ghanaian media reported Sunday, citing Egyptian sources.
According to the Egypt Football Association, fans plotted to harass and abuse Grant from the time he arrived at the airport until he left the country. They also demanded that Egyptian authorities block the 61-year-old coach, who also has Polish citizenship, from entering the country.
"They plan to hurt him and chant at him, and they want him not to enter Egyptian territory because people don't want him around," a source at the football association told Ghanaian online portal "Sports Obama".
Grant has recently voiced concerns that Alexandria will not be a safe place to hold the match, and called for it to be relocated to another country.
Despite Israel and Egypt having signed a peace deal in 1979, many Egyptians are hostile toward Israel and oppose normalisation.
In 2011, thousands of Egyptian protesters broke into the Israeli embassy in Cairo. Following intervention by US President Barack Obama, Egyptian commando forces evacuated six Israeli diplomats who had been trapped in a "safe room" inside the embassy.
Grant is a veteran soccer coach, having trained many major Israeli teams in a career that started in 1972, when he was just 18 years old.
Grant coached the Israeli national team for four consecutive years until he announced he was moving to England in October 2005.
After a year as technical director at Portsmouth, he replaced Jose Mourinho as manager of Chelsea in July 2007. Despite finishing in second place in the Premier League and advancing to the finals of the Uefa Champions League and the League Cup, Grant was fired from Chelsea after one year.
After serving in several positions in Portsmouth, West Ham United and Partisan Belgrade, Grant was appointed at the end of 2014 as the new manager of the Ghana national soccer team.