Dyche hopes Burnley's Gray can move on after lengthy ban
FOOTBALL By Reuters | October 28th 2016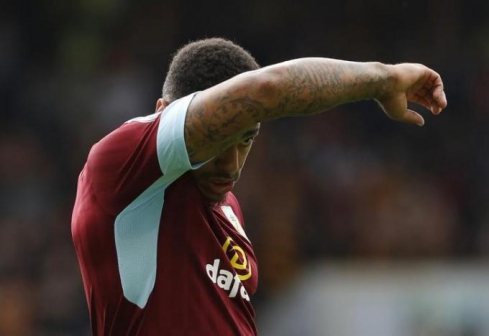 Burnley manager Sean Dyche said he was unsure how Andre Gray would handle the reception from rival fans after homophobic social media posts earned him a four-game ban though he was certain the striker had learned his lesson.
Gray returns to action in Saturday's Premier League visit to Manchester United, his first match since he was banned and fined by the FA for misconduct in relation to comments he made on social media dating back to 2012.
The 25-year-old, however, apologised immediately after his comments came to light, saying he was at a very different point in his life four years ago and was "absolutely not homophobic".
"There's no crystal ball for me, he's a young man developing and learning, and there's no guarantees he's going to cope with it in any way, either positive or negative," Dyche was quoted as saying in British media on Friday.
"I think it's fair to say his behaviour will be monitored more closely. I don't mind that. I think that comes with the territory a little bit... This type of situation, he can only learn from. He's got to learn from it.
"The ones who don't learn are often the ones who have trouble in the future, and I don't think he's that type, he's trying to move forward."
Burley, who are 14th in the table, will look to pick up back-to-back wins for the first time this season when they face seventh-placed United at Old Trafford.
United and City clash set to ignite season
A clash between supposedly the two most expensive lineups in history overseen by two of the most decorated coaches will end the phoney war and ignite the Premier League season for real when Manchester United host Manchester City on Saturday.