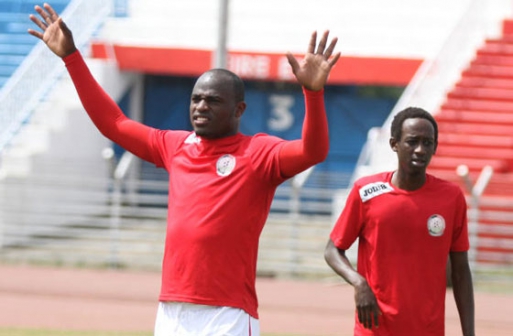 He took up a new role as a brand ambassador for betting firm, Betway.
Oliech 31, announced yesterday that he has made the decision due to 'lack of appreciation' from stakeholders. "It is with a heavy heart that I announce my retirement from the national team Harambee Stars. At this point I don't feel my contribution has been appreciated by stakeholders.
SEE ALSO: Ayub Timbe leaves English Championship side Reading FC
"It has become difficult playing for the national team when you are not appreciated," he said. Oliech first played for the national team in 2002 when as a 17-year-old he played against Nigeria in an international friendly in Lagos which Harambee Stars lost 3-0.
After that he went on to play in 68 matches for Harambee Stars and scored 34 goals in the process. His last match for the team was last year when he featured against Zambia in a 2-1 loss in the ongoing 2017 Africa Cup of Nations qualifiers.
But many Kenyans will remember Oliech for his heroics in leading Harambee Stars to the 2004 Africa Cup of Nations finals held in Tunisia. It is the last time Stars have made it to the tournament.
With Harambee Stars needing to beat Cape Verde in their last qualifying match, Oliech scored with a stunning shot to give Stars a 1-0 win at Kasarani and with it lead the team to the Nations Cup.
SEE ALSO: Man scoops Sh1 million in Betway's '4 to Score' competition
It is a performance that put him in the international limelight as the same year he was named among the 50 most promising young players.
In the list was also Manchester United forward and England captain Wayne Rooney.
After the Tunisia tournament he joined the paid ranks outside the country signing a three-year deal with Al-Arabi in the Middle East and three years later became the first Kenyan to play in the French Ligue 1 when he joined Nantes.
He stayed in France for seven years playing for Auxerre and Ajaccio before moving back to the Middle East last year.
Prior to leading Stars to the Nations Cup finals, he had also led them to glory in the regional Cecafa Senior Challenge Cup in 2002 when the tournament was held in Tanzania after almost a decade of waiting.
BETWAY DEAL
Regarding his new role as Betway's brand ambassador, Oliech said: "Betway is a major brand that I am proud to be associated with. This is also a great opportunity for me to start another chapter in my career."
Betway Group Chief Executive Officer Richard Akitt said he was happy to have brought Oliech on board.
"Signing a Kenyan legend like Dennis Oliech is another significant coup for Betway and we're looking forward to working with Dennis over the course of the next 12 months.
"Betway is a world-class brand that is growing rapidly in Kenya," he said.