ON THE BRINK OF MAKING HISTORY: Muhoroni Youth stand between Gor Mahia and history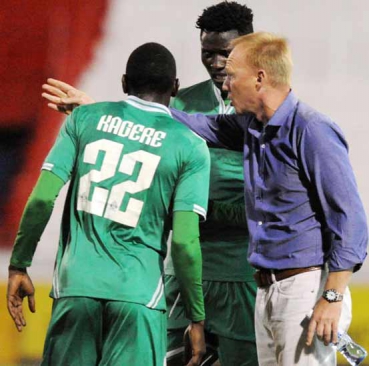 Gor Mahia are set to make history again today by winning the Kenyan Premier League unbeaten.
The first time this happened was in 1976 when Gor Mahia were under coach-player Allan Thigo, who remains the only local coach to have achieved this feat which the current coach Frank Nuttall will be seeking to emulate.
But Gor Mahia must first get rid of a determined Muhoroni Youth side today at Nyayo Stadium to write their name in history books once again. Thigo believes it can be done and remains proud to have been the first coach to do that.
"The fact is I am the only local coach who has achieved this feat before and looking at the current squad, I believe they can do it again. They are focused and have come so far to let it go," he said.
Gor Mahia will finish the league with an impressive 78 points if they beat Muhoroni Youth. That is almost 18 points more than second-placed Ulinzi Stars if the soldiers beat Bandari at home today, in this season's last match.
The KPL champions have had a season to remember. Even without a sponsor, they still managed to sign some of the best players locally and, with a huge fan base behind them, their matches almost end up in their favour.
Apart from winning the league for the third year in a row, Gor are still in contention for two other local titles — the KPL Top Eight tournament and Gotv Shield to crown what may remain as their best season since winning the 1987 Mandela Cup.
But their success has also come with a lot of challenges. With lack of a sponsor, the team management is worried about keeping their best players next season.
The contracts of some key players will run out at the end of the year and they will need good money to pen new deals.
The club is likely to afford the new demands and may be forced to let go of some players and sign others ahead of the continental showpiece next year.
Some of the players who are likely to leave are Meddie Kagere, Michael Olunga and Godfrey Walusimbi. The three have been key in helping the club reach the top and their departure will be a big blow to both the club and the coach.
But Gor Mahia have proven that they are almost invincible in the last three years, and despite letting go of their best talent, they always attract even better players.