Spurs boss pochettino set to swoop for Wanyama as Wenger agrees a three-year contract extension at Gunners
LONDON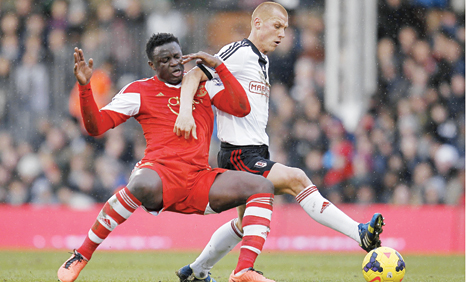 Victor Wanyama of Southampton tries to reach for the ball as opponent shields him in a past English Premier League match. [PHOTO: COURTESY]
The former Saints manager made the switch from St Mary's to White Hart Lane on Tuesday, penning a lucrative five-year deal in the process, and his first plan is to rebuild Spurs' shaky midfield.
Brazilian duo Paulinho and Sandro are transfer targets for Chelsea and Napoli respectively, with Etienne Capoue wanted in Italy by Rafa Benitez too.
With questions marks also hanging over the qualities of youngsters including Nabil Bentaleb, Pochettino is keen to bring in strong and technical midfielders as soon as possible, and the Argentine will look to make Wanyama the first signing of his Tottenham era.
The former Celtic star was one of many Southampton players mourning the loss of the popular coach at the south-coast side, and the Kenya international hinted at a reunion in the aftermath, telling Capital Sport: "I learnt a lot from him, he taught me more and that's why I have grown as a player and there is a big difference compared to when I was at Celtic. He played a big role in my career development.
Passion for club
"I wanted him to remain because he had the passion for the club and I think the owners should not have let him go because the team can do better next season. It's a big blow because he had a good connection with the players."
Meanwhile, Arsenal manager Arsene Wenger, accoding to BBC, has agreed a three-year contract extension, keeping him at the club until 2017, the BBC reported Friday.
The Frenchman is the current longest-serving manager in the English Premier League, having joined the north London side in 1996 and this season ended the Gunners' nine-year wait for a major trophy by overseeing their come-from-behind FA Cup final win against Hull City at Wembley.
The BBC added the contract extension for Wenger, 64, is "set to be signed and announced in the coming days", possibly as soon as Saturday.
He won three Premier League titles and four FA Cups in the first half of his 17 and-a-half-year Arsenal tenure, but prior to this month's dramatic 3-2 win over Hull he had not lifted a trophy since the 2005 FA Cup.
–––AFP & Daily Mail
Southampton in crisis as Lambert heads for exit
Southampton Football Club on Friday resembled not so much a side in repose after a record-breaking season, but rather a carcass of a club being circled by vultures as news broke that England striker Rickie Lambert was headed for Liverpool.